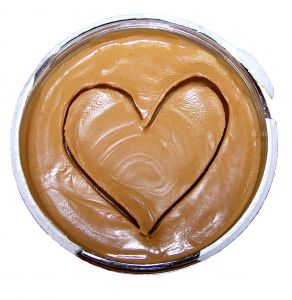 That peanut butter is rich, flavorful and creamy immediately raises speculation about its nutritional value. Because it tastes so damn good, many people wonder: Is peanut butter really a healthy choice?
If you have a jar of peanut butter in your home, take a look at the nutritional facts. Two things will probably jump out. First, it is calorie-dense. With 200 calories in just tablespoons, it's like eating a bowl of cereal. Second, with 16 grams of fat per serving (about 25% of a typical person's daily value), it's quite high in fat. It even has 3.5 grams of saturated fat – about 16% of your daily value.
It doesn't seem to paint peanut butter in a good light.
But calories and fat don't tell the full story. According to Dr. Walter C. Willett, a nationally known nutrition expert at Harvard University:
The presence of saturated fat doesn't automatically kick a food into the "unhealthy" camp. Olive oil, wheat germ, and even tofu – all "healthy" foods – have some saturated fat. It's the whole package of nutrients, not just one or two, that determines how good a particular food is for health.
The ratio of unsaturated fat to saturated fat in peanut butter is similar to that of heart-healthy olive oil. Peanut butter also contains fiber, protein and some vitamins and minerals.
Peanut butter, other nut butters and nuts have been studied quite extensively. As it turns out, people who consume nuts or nut butters are less likely to develop heart disease or type 2 diabetes. According to a separate study from Brigham and Women's Hospital, individuals who eat a diet high in foods like peanut butter are more likely to keep weight off than people following a lower-fat diet. Researchers at Purdue University also found that people feel fuller and eat less after snacking on peanut butter than other foods.
So, go ahead and spread some gooey peanut butter on a frozen banana (my favorite) or on a sliced up apple. Mix it into your smoothies. Peanut butter – and other nut butters and nuts – can certainly be a part of your healthy diet.