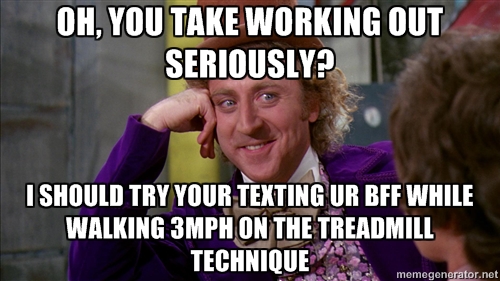 Continuing with my "10 Commandments" series, today I'm sharing etiquette rules that every gym goer should follow.
Thou shalt not walk in between an exerciser and the mirror. When someone is working out, they'll often use the mirror to spot themselves and to ensure proper form. If you walk between the exerciser and the mirror, you're blocking their view – and being rude. Walk around them.
Thou shalt wipe down equipment. If you sweat on it, clean it up. No one wants to lie down in your workout juice.
Thou shalt not sit on the equipment while texting, browsing Grindr or taking selfies. Gym equipment is for exercising. And playing on your phone is not exercising. Even if you only check your phone during your rests, you're likely resting a lot longer than you think. The reality is, your gym is probably busy and someone else might be waiting to use the machine. Keep your phone in your pocket.
Thou shalt put weights away. Unless you're exercising with a personal maid, there's no one to clean up after you – so put your equipment away. And besides, lifting weights to put them away can make you strong, too.
Thou shalt neither hog nor hover. Hogging equipment is when you spend way too much time on a given machine, especially when the gym is busy. If you're on a machine for more than a few sets, allow other people to cut in during your rests. On the flip side, if someone is using a machine that you want, don't hover around them like a fly on shit. During their rest in between sets, politely ask if you can cut in.
Thou shalt ask how to use equipment if unsure. If you have questions, ask a trainer or someone at the front desk. Ignorance is not bliss because you'll probably end up hurting yourself – or, even worse, as a gif on the internet.
Thou shalt not smell. Going to the gym isn't an excuse for slacking on hygiene. Don't invade our nostrils with offensive odors or smells. Wear clean clothes and apply some deodorant.
Thou shalt not do curls in the squat rack. Squat racks are for doing squats, and most gyms only have one or two. They're a precious commodity. If you're doing another exercise, like curls, you actually don't need a rack at all. So don't take up prime real estate.
Thou shalt not go to the gym while sick. Exercise is important, but working out sick is bad for yourself and the people around you. Give your body the rest it needs – and don't ruin things for the rest of us.
Thou shalt ________. You tell me! Write the 10th commandment of gym etiquette in the comments below.