Dear Davey,

I'm going to get right to the point… I hate my butt. I don't like the shape and it's too small. I have no idea what to do. Help!

From,
Jordan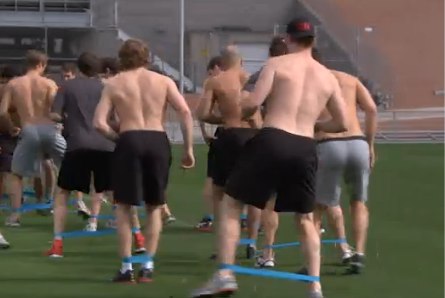 Hey Jordan,
For both men and women, our asses are important assets. They can be one of the first things that other people notice (other than your wonderful personality!), and can certainly get the blood pumping. Among other things.
Here are few tips for giving yourself a booty makeover.
Build your glutes through strength training. The gluteus maximus, gluteus medius and gluteus minimus are the muscles that define your butt. By engaging in strength training exercises that target your glutes, you'll build a rounder and tighter tush. Some exercises to incorporate into your workout include squats (this one is the best!), lunges, leg presses and deadlifts. Every few weeks, progress to heavier and heavier amounts of resistance. This process (called progressive overload) will cause your muscles to grow.
Target glutes through cardio. You can also train your glutes through cardiovascular exercise. According to research, jogging on a treadmill is the most effective cardio exercise in terms of glute activation. Adding an incline further enhances activation. If you're really willing to invest time in the pursuit of an awesome ass, learn how to ice skate… because hockey butt.
Reduce butt fat through a calorie deficit. If you want to reduce butt fat, know that a calorie deficit is required. That means, you'll need to eat fewer calories than you burn. It's important to continue exercise when using a calorie deficit to ensure that more fat than muscle is lost. However, keep in mind that fat will melt off all areas of your body… and not just your backside. It's impossible to reduce fat just in your butt without reducing fat from other areas of your body.
Be realistic. At the end of the day, exercise and diet will most likely enhance the shape you already have. But having a stronger, lean backside isn't just about looking a certain way. It's about being strong and powerful. And a well developed butt will help you in other aspects of your workout.
If you want a bigger butt, focus on tips 1, 2 and 4. When building muscle (a process you'll often hear gym enthusiasts refer to as bulking), a calorie deficit will actually work against your goals. Obviously, building muscle requires a surplus of calories.
If you want a smaller backside, focus on tip 3. When reducing fat (a process you'll often hear gym enthusiasts refer to as cutting), you won't be able to build muscle.
Love,
Davey
P.S. For a guaranteed strategy to build muscle on your backside or anywhere else, download Size Matters: Davey Wavey's Foolproof Guide to Building Muscle!