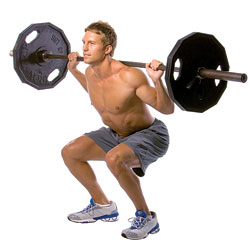 No comprehensive leg routine is complete without the powerful compound exercise known as squats. Squats are performed a number of ways – with dumbbells, bodyweight, kettlebells, resistance bands, etc. – but most often with a barbell.
While barbell squats are a great exercise that can yield excellent results, there are a number of common squatting mistakes that I'd like to highlight.
Resting the barbell on your neck. If your neck hurts from squats, you're probably resting the bar on your neck instead of upper back. Resting the bar on your upper back allows you to squat greater amounts of weight and avoid injury.
Not squatting all the way. While performing a partial squat is a great way to get acclimated and build confidence, it's best to end each squat in a thigh position that is parallel to the floor. If you don't complete a full squat, you'll be cutting your results short.
Checking your form in a side mirror. Want to know if your thighs are parallel to the floor when squatting? You can't tell from a front-facing mirror – and twisting your neck to view a side mirror is dangerous. Instead, ask someone to monitor your form.
Uneven loading. Distracted and chatty lifters sometimes load an uneven amount of weight (i.e., 75 pounds on one side of the barbell and 85 on the other). Obviously, this could result in injury. Pay attention and stay focused!
Unracking in a lunge. When going into your first squat, don't unrack the barbell in a lunge position. Doing so puts more strain on your front leg and wastes energy. Instead, unrack the barbell with both feet directly under the bar.
Not staying in alignment. It's wise to keep your knees directly over your feet when squatting. In fact, I like to see the tips of my shoes poking out above my knees when looking down at the ground. Many people have a tendency to buckle their knees inward or slide them too far forward – which can result in undue stress or knee pain.
As you incorporate squats into your routine, enjoy maximized results by avoiding these common mistakes.