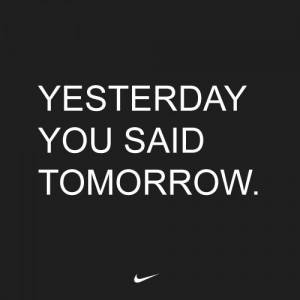 This morning, I came across a great Nike ad. It's just four words:
Yesterday you said tomorrow.
The ad certainly resonates – and it may sound familiar to you.
When it comes to fitness, we're often full of good intentions. It can be an intention to join a gym, attend a fitness class, download a workout program or to start running again. But our intentions don't always meet action.
The excuses come up. For a lot of us, it's about time. There just aren't enough hours in the day. Or maybe it's about insecurities. I'll join a gym when I lose 5 pounds. Or maybe it's about fatigue. I'd hit the gym but I just don't have the energy today. The excuses are innumerable.
And so we put it off… until tomorrow.
If we spend our lives waiting for the ideal circumstances to achieve our fitness goals, we'll wait forever. Instead of paralyzing ourselves with these excuses, we just need to take the first step – even if the conditions don't feel perfect. Maybe you're still busy, insecure or tired – but, by exercising, you'll extend your life (and thus have more time), build confidence and increase your energy. It's win-win, so what are you waiting for?
Today is the tomorrow that you promised yourself yesterday. So get started. Right now.