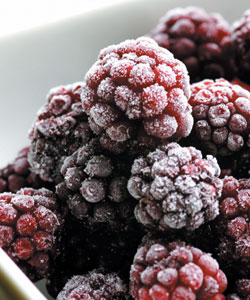 If there's one thing you should know about me, it's that I love a good snack. In fact, I'm what you might call a snack connoisseur.
Snacks have gotten a bad rap. And since most people snack on potato chips, cookies or bonbons, maybe that bad rap is partially deserved. But today, I'd like to welcome you to the land of easy, delicious and healthy snack alternatives. They're not processed, loaded in unhealthy fats, sodium or any of the other crap you might find in many prepackaged snack options.
These are my actual top five favorite simple and healthy snack options:
Almond butter dipped frozen banana. The name says it all. Peel a banana, wrap it in plastic wrap and stick it in the freezer. Once frozen solid, remove the banana and slice it into generous chunks. Using a fork, dip each chunk into almond butter and place in a small plate or bowl. Let stand for a minute, and the almond butter will form a frozen shell around the banana. Eat and enjoy!
Carrot sticks and hummus. Admittedly, I'm not a big fan of the taste of veggies. But a carrot stick dipped in hummus is both healthy and delectable. Hummi (is that the plural of hummus?) are available in a variety of flavors – so it's a snack that never grows old. My favorite flavors are spicy chipotle and garlic lovers.
Frozen fruit. Produce can be pricey – especially when it comes to fresh fruits and berries. I've discovered a simple trick. Stock up on cut frozen fruits (many are just a few bucks per bag), and mix them together into a small bowl. Frozen fruits are usually flash frozen at their ideal ripeness – and so they're absolutely delicious. I prefer to eat them frozen; it's almost like eating candy – I love it. I usually stick to a combination of raspberries, blackberries and strawberries. If you're feeling extra fancy, add a dollop of yogurt.
Apples and fresh peanut butter. Nothing beats a sliced Fuji apple and a few tablespoons of peanut butter. And fear not, though nut butters (like the almond and peanut ones I recommend) contain a lot of fat, it's not the same kind of fat you'd find in, say, a fried mozzarella stick. If it's available to you, opt for fresh nut butters. Apples, being rich in fiber, are also very filling – and so this snack is both scrumptious and satisfying.
Hard boiled eggs. Once a week, I boil a dozen eggs and store them in my fridge. When I'm craving a snack, they're super easy and convenient. They're also packed with high quality protein. And though eggs have a lot of cholesterol, the impact of dietary cholesterol on blood cholesterol levels is fairly small. Moreover, if you are concerned, the yolks can be easily removed to eliminate the cholesterol. Eggs become less healthy when we fry them in butter, top them with bacon and cheese and sandwich them between thick slices of white bread. Eating hard boiled eggs is a healthy and delicious alternative.
What's your favorite healthy snack? Share it below – I'd love to try out some new options!