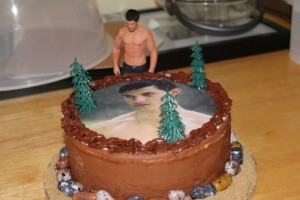 Strength is the capacity to break a chocolate bar into four pieces with your bare hands – and then eating just one of the pieces.  ~Judith Viorst
Yeah, yeah. We all know two things:
If you're trying to lose weight or maintain a healthy weight, it's important to keep tabs – even if it's roughly – on the calories you consume.
Desserts tend to have a shitload (that's a technical industry term) of calories.
The Great Wall of Chocolate from P.F. Chang's, for example, has 2,200 calories. More modest desserts in more modest portions tend to average out in the 300 calorie range (see here for a more detailed calorie listing). It's no surprise, then, that I found the following tip posted in a fitness forum:
Limit yourself to 1 dessert per week – Go from 7 to 1 day to decrease calories by 1,800 (300 per dessert) per week. 3,500 calories burned (more than consumed) equals 1 pound.  So you can lose 1 pound every 2 weeks and 26 pounds in 1 year this one tip alone!
Talk about buzz-kill. Beyond the importance of calorie counting and the unhealthiness of most desserts, we also know another thing: Life is better with dessert. And so, dessert is one thing that I'm not willing to give up.
Don't get me wrong: Nutrition is crucially important for a healthy lifestyle. But I refuse to subscribe to the mentality that I must deprive my taste buds of ice cream, apple crisp, pie or anything else pleasureful. Life is too short not to indulge responsibly; remember all those men and women on the Titanic that waved off the dessert tray.
If you're like me in your unwillingness to deny your sweet tooth, then here are a few tips:
Watch the portion and eat consciously. Your dessert desires can be satisfied with just a few bites. Consciously and fully enjoy each bite. You don't need an entire pint of ice cream or thick slice of cake. It helps to put the portion on a separate plate or bowl (i.e., not eating ice cream out of the carton).
Mix healthier options into your dessert selections. All desserts are not created nutritionally equally. While I'd never ask you to ditch chocolate cake entirely, occasionally opt for things like fruit salad, yogurt, mixed berries, cut mangoes or bananas drizzled in chocolate. Need more ideas? Here are some healthy dessert recipes you may want to try out.
Work it off! Better and more effective than cutting calories to create a caloric deficit is to increasing the amount of calories you are burning. Starving yourself to lose weight tends to backfire. If you want to lose weight and you are unwilling to cut dessert, make it up on the treadmill. I burn 425 calories in 20 minute on the treadmill. I'd run an extra 20 minutes if it came to that or dessert!
Balance it. Nutritional balance isn't holding a cupcake in each hand. It's eating well – most of the time. If you know that you're going to indulge with your dessert, then cook (or order) a healthier man course. Instead of the double bacon BBQ cheeseburger at The Cheesecake Factory (6 zillion calories), order the Bang-Bang Chicken and Shrimp (only 2 zillion calories). I follow the 80/20 rule of eating healthy 80% of the time.
Enjoy it. For fuck's sake, enjoy the dessert and don't feel guilty about it. Worst of all, don't feel guilty about feeling guilty. Guilt is not a powerful motivator. Dessert is one of life's simple pleasures. Eat up and enjoy.
So yes, when it comes to dessert, you can certainly have your cake and eat it to. If God didn't want you to have chocolate, then she wouldn't have invented it. Just indulge responsibly.
My question for you: What's for dessert tonight? I'm having apple and pear cobbler.