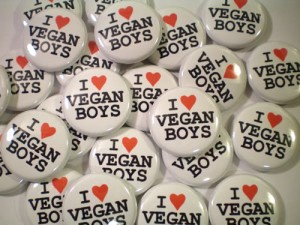 As a gay person, I understand the pain of oppression. I understand what it's like to be denied equal treatment and fairness. And I also understand that an injustice to one is an injustice to all – whether it's with women's rights, racial discrimination… or the mistreatment of animals.
When Ari Solomon, columnist and animal rights activist, emailed me with an article titled "Being Vegan is So Gay," I was struck by the intersections in our movements. Ari writes:
I went vegan… because I couldn't stand knowing that I was paying other people to do to those animals what had been done, on a much smaller scale, to me. How could I say that I believed everyone deserved to be equal and have a chance to be happy when I was eating the remains of lives that had been wrought with misery and mercilessness.
Surely, if anyone can understand the mistreatment of animals in factory farms, it should be other oppressed populations. Like gay people. If you are pushing for equal, just and fair treatment for humans – how can you turn a blind eye to the food we buy and eat?
But unlike Ari, I don't agree that the answer is necessarily veganism.
I think the consumption of meat, when done responsibly, is a very natural and beautiful thing. When we consume life – be it plant life or animal life – we're participating in the great cycle of life, death and renewal that keeps this planet functioning.
For me, the answer is about being a conscious eater. Instead of buying factory farm meats, I buy grass-fed meats from Whole Foods or from local, pasture-centered family farms. In fact, Whole Foods even has a 5-Step animal welfare rating so that you can see how the animal was treated. It helps the consumer make wiser, more conscious choices.
But Ari is right: Oppression is oppression. The mistreatment of animals is an injustice, and it's hypocritical for us to turn away.
What do you think? Do you think gay people – or other oppressed groups – have a special responsibility and duty to stand up for the rights of animals?