Dear Davey,

What is a good alternative to protein powder shakes? I can drink them, but I'd rather walk on hot coals. If they're isn't a good alternative how do you make them less disgusting?

From,
Jordan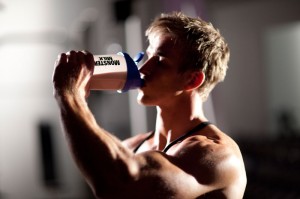 Hey Jordan,
It's true: Protein powder and protein shakes almost never taste good. And when they do, it's usually because they're loaded with unhealthy ingredients to mask their chalky taste.
When people consume protein drinks, it's not for flavor. It's to fuel results.
For example, a post-workout shake of whey protein is specifically formulated to deliver protein to your muscles quickly – which is exactly what your muscles need. If, on the other hand, you consume protein through an actual food (i.e., chicken, eggs, fish, etc.), the protein won't be absorbed as quickly.
If people can't consume whey because of dietary restrictions or allergies, there are some alternatives like hemp, soy, rice, etc. Though these proteins aren't absorbed as quickly, they can still be effective supplements.
Beyond using protein as a post-workout recovery drink, many people use protein powders as a general supplement to help them meet their daily protein requirements. For these individuals, absorption speed isn't important – and so it's totally possible to swap out protein shakes for actual food. Cottage cheese, yogurt, nuts, meat, fish, beans and many other foods are all high in protein.
You can also mix protein powder into other foods like smoothies, milk, peanut butter, oatmeal, cereal, pancakes, dessert mixes, pudding, juices, yogurt, pasta sauce (seriously!), bars, eggs and many more. Doing so disguises the less-than-desirable taste of the powder. Get creative!
But for people like myself who lift frequently and have high protein requirements, it's hard to get one's daily protein requirement through food alone. I'd be eating constantly, consuming too many calories and gaining weight. So, for me, supplementing my meals with protein powder makes a lot of sense. It doesn't taste good, but it works!
Love,
Davey