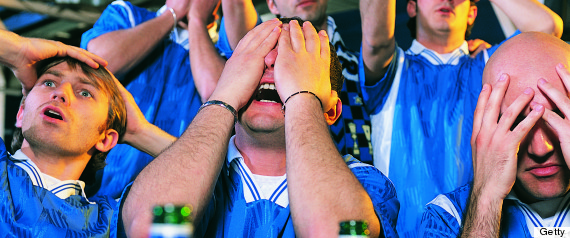 Last night, my beloved Patriots football team lost to the Bengals 13-6. Today is a sad day across New England. And, according to a recent study, it's also likely to be a day of increased saturated fat and sugar consumption as disappointed fans try to cope with the loss.
The study, published in Psychological Science, is the first of its kind to examine the impact of sports outcomes on eating. Previous studies have found correlations between losing teams and increased risky driving, heart attacks and domestic violence.
For the study, researchers from the INSEAD Business School looked at two seasons worth of NFL games and compared the outcomes with eating habits in a dozen cities. According to researchers, saturated fat consumption increased 16% for people living in cities with a losing football team. If the team won, saturated fat consumption decreased by 9%. Similar trends were found with sugar consumption – and the numbers were even more dramatic if a team lost unexpectedly or by a narrow margin.
In other words, people ate healthier if their team won and less healthy if their team lost.
But why? Researchers speculate that unhealthy foods are used as a coping mechanism to comfort disappointed sports fans. It's called emotional eating – and it is a huge problem. In fact, it's been estimated that 75% of overeating is due to emotional eating. Winning, conversely, seems to boost fans' self-control.
If you're worried about making unhealthy food choices due to a losing sports team, fear not. In their findings, researchers shared an easy fix: After a defeat, simply jot down the things that are really important to you in life. This technique, called "self affirmation", was found to completely counter any negative effects of being defeated.
Let's keep it all in perspective!