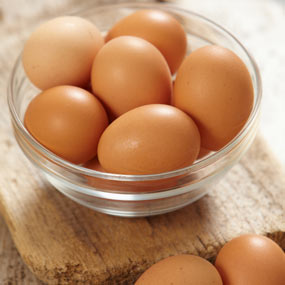 If you're looking to upgrade your diet, one of the easiest ways to start is with a protein-rich breakfast – at least, according to the latest study published in the American Journal of Clinical Nutrition. And yet, up to 60% of young Americans skip what is arguably the most important meal of the day.
For the study, a group of women ages 18 – 20 either skipped breakfast, ate breakfast cereal or consumed a protein-rich breakfast of eggs and meat. Regardless of the food type, all the breakfasts were matched for calories, fat, fiber, sugar and energy density. Only protein varied – with the high-protein breakfast containing some 35 grams.
Throughout the course of the study, participants completed questionnaires, provided blood samples and underwent an evening brain scan. After reviewing the data, researchers found that eating a high-protein breakfast led to increased fullness and a decrease in brain activity associated with food cravings. In addition, eating a high-protein breakfast was associated with reduced evening snacking on high-fat and high-sugar foods – as compared to skipping breakfast or eating a cereal.
According to researchers:
These data suggest that eating a protein-rich breakfast is one potential strategy to prevent overeating and improve diet quality by replacing unhealthy snacks with high quality breakfast foods.
If you're looking for a high-protein breakfast, eggs, protein shakes, Greek yogurt and cottage cheese are all protein-rich choices to upgrade your early morning meal.
What do you usually eat for breakfast? Let me know in the comments below.