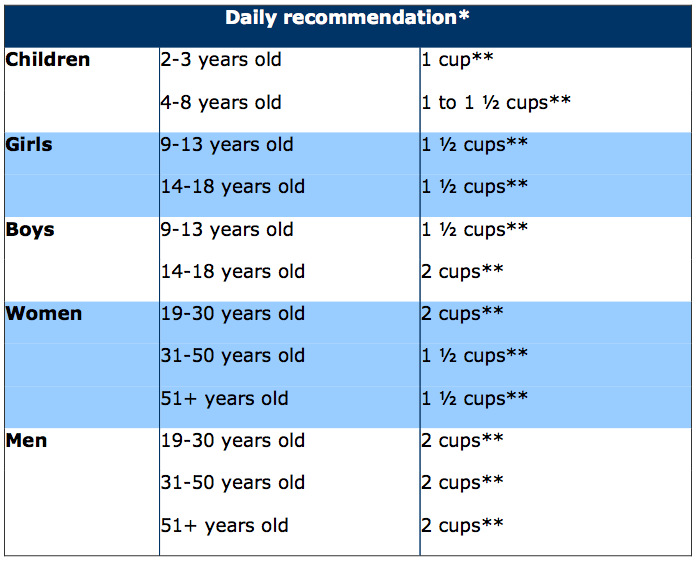 What isn't there to love about fruit? Fruit is sweet, delicious and packed with the nutrients that your body needs. But like any food, too much fruit can work against your health and fitness goals – especially because fruits are calorie-dense and loaded with carbohydrates.
Here are a few things to keep in mind.
First, check out government guidelines. The accompanying chart can give you insight into your daily fruit needs. Keep in mind the chart is designed for individuals who get less than 30 minutes per day of exercise. If you are more active, you'll be able to consume more fruit. For most of people, 1.5 – 2 cups of fruit per day is recommended.
Avoid fruit juices. Juicing removes beneficial fiber from fruit. The resulting liquid is barely healthier than soda. Instead, get your fruit from whole sources.
Be mindful of your carbohydrate intake. Your body needs carbs for proper function and energy, but too many carbohydrates and excessive calories can lead to excess weight. Eating a banana before the gym can provide a boost of energy. Eating 5 bananas as a snack, on the other hand, is not doing your body any favors.
Avoid "fruit" products. In the grocery store, you'll notice many variations on fruit products. These include fruit snacks, roll-ups, puddings and so on. Often, there's little to no fruit in these products – and they're usually loaded with added sugar. Stick with real fruit.
Of course, don't get the wrong impression; fruit is healthy. But like all foods, it's important to eat fruit in moderation – and to focus on a well-rounded, diverse and balanced diet.