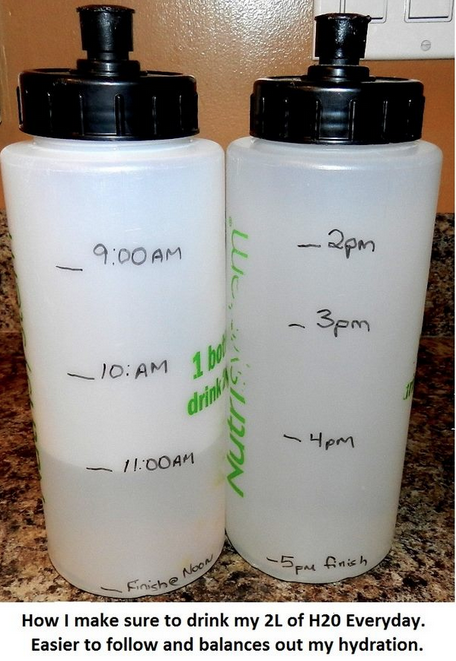 As I've mentioned before, drinking enough water is absolutely essential. Aside from keeping your body functioning properly, water can boost your metabolism, clear up your skin and even help curb hunger. And that's just for starters.
So just how much water should you drink each day? It depends. The answer is dependent on a number of factors including gender, activity level, environment, health conditions and whether or not you're pregnant or nursing.
While most of us have heard that we need to drink eight glasses of water a day, the reality is a bit different. According to the Mayo Clinic, men should aim for about 13 cups of water per day (3 liters) and women should drink 9 cups (2.2 liters). It's a bit more than what we've been taught in the past.
If you exercise, you'll need to consume more liquid – and possibly a sports drink (or something with sodium) to replenish electrolytes. The amount that you'll need depends on the intensity and duration of the exercise performed.
Moreover, the environment plays a big factor. If it's hot or humid, it's important to replace liquids lost from sweating. Higher altitudes will also cause increased urination; additional liquid consumption is advised.
And, of course, many illnesses and health conditions require additional liquids. As does pregnancy or nursing.
But if you're looking for a simple tip to help get your daily water intake, pick yourself up two, 1-liter water bottles (or three, 1-liter bottles if you're a guy). On the bottles, mark a water goal for each hour or two. As your day progresses, make sure you've kept up to the goal. You can keep the bottles in a refrigerator or even just nearby on your desk. By the end of the day, you'll have consumed the full amount.
It's a really easy tip to help build a healthy water habit!