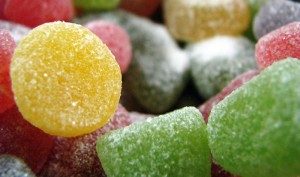 Sugar is serious business. And many of us are addicted to the sweet stuff – or at the very least, getting way too much of it.
According to the USDA, Americans get more than twice the recommend amount of added sugar daily. What's the big deal? Excessive sugar consumption can lead to weight gain, metabolic disorders (a precursor to diabetes) and even some forms of cancer. In other words, our sugar addiction could kill us.
And from a purely fitness standpoint, lots of sugar translates into extra body fat. A spoonful of sugar may help the medicine go down – but it will take 4 minutes of treadmill running to work it off!
What can you do to kick your sugar habit?
Get your sugar where it occurs naturally – from fruits, dairy and vegetables.
Avoid the obvious stuff like soft drinks, cakes, cookies, pies, fruit punch and candy.
When you buy food, check the label. In the list of ingredients, look for any of these as they're all forms of sugar in a clever disguise: Brown sugar, corn sweetener, corn syrup, dextrose, fructose, fruit juice concentrate, glucose, high-fructose corn syrup, honey invert sugar, lactose, malt syrup, maltose, molasses, raw sugar, sucrose, syrup or table sugar.
The easiest and most effective way to cut some sugar from your diet is to simply replace any fruit or soda beverages with water. If you can replace just two sugary beverages with water, you'll make an annual caloric savings equivalent to 22 pounds of body fat!