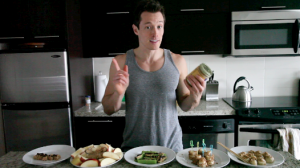 I love peanut butter. And I bet you do, too.
Because peanut butter is high in fat and calorie dense, it gets a bad rap. But calories and fat, as I've mentioned before, don't tell the full story. Peanut butter has a similar overall fat to saturated fat ratio as heart-healthy olive oil. It's also high in protein, fiber – and very filling. It's even been linked to weight loss.
To share some of my favorite peanut butter recipes, I put together this video on my Davey Wavey Fitness YouTube channel. Check it out.