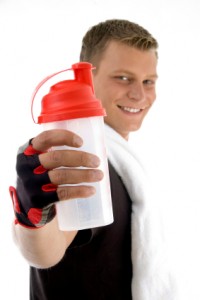 I just read an e-mail from a confused blog buddy that needs some post-workout nutrition guidance. Here's my best shot.
Admittedly, it can get confusing – especially when marketing comes into play. Dozens of workout shakes are pushed our way, not to mention a whole slew of protein bars. So what's one to do?
First things first, there is one thing that you definitely don't want to eat after you exercise: Fat. Even "good" fat. Obviously, all of us need fat in our diets, but immediately following a workout is not when you want to consume it. Fat slows down digestion – and after a workout, your body needs to be replenished quickly. This is why I tend to avoid "muscle milk" which is actually quite high in fat.
There are three things you do need after a workout:
Hydration – I prefer water.
Carbohydrates.
Protein.
And how soon do you need them? Very quickly. I try to get my initial post-workout feeding within 20 or 30 minutes of exercising. Definitely within 1 hour.
When it comes for protein, we know that not all proteins are created equal. You want a high quality protein that is absorbed quickly by the body. This is why I tend to mix some whey protein powder for my initial intake as a shake. I recommend that you try the same – whey protein (ideally, whey isolate instead of concentrate) is as good as it gets! If you need deeper guidance, find out how much protein you should be consuming over the course of a day.
You also need carbs. Thanks to the likes of Dr. Atkins, women and many gay men alike try to avoid carbs like the bubonic plague. But carbohydrates are super important to your post-workout recovery. In fact, they restore muscle glycogen – and if you don't have carbs, your body may break down muscle to perform the same process. So, make sure your post-workout meal does contain carbs. There are several formulas to calculate the exact amount, but they generally point to a range of 30 – 70 grams, depending on body weight and workout length and intensity.
If you want to get fancy, try a chicken sandwich or egg white veggie omelet with toast. But really, a good protein shake powder will generally do the trick. You can even bring the powder with you to the gym – or leave a scoop in your protein bottle and just add water on your way home. It's a great way to help you make the most of your workout and get the results you want!
What do you eat after you workout? Let me know in the comments below.