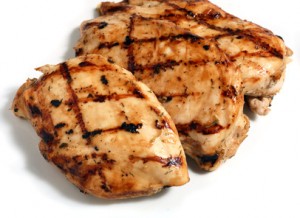 Which meat is the healthiest? Chicken is the obvious answer – but it's not always true.
While organic, pasture-raised chickens are extremely healthy, most of the chickens sold in modern supermarkets are raised differently. Today's chickens are grown with increased fat and decreased protein. In fact, according to researchers at the Institute of Brain Chemistry and Human Nutrition at London Metropolitan University, today's chickens contain 266% more fat and 33% less protein than chickens from 1971.
In the same way, today's conventional cows are fattier than ever – thanks, in part, to their diets of corn and supplements. Grass-fed beef, on the other, not only tastes better – but also has improved nutritional content. Grass-fed beef has lower overall fat, lower saturated fat, an increase in heart-healthy omega-3 fatty acids, lower cholesterol and more vitamins.
Next, we must consider the cut of meat. A chicken leg, for example, has 3x more fat than a serving of London broil. Chicken legs, thighs and wings are high in fat; the breast meat is low in fat. Leaving the skin on also increases the fat content. Sirloin steaks and flank steaks tend to be very lean. If opting for pork, tenderloins and loin roasts are healthier options.
When selecting healthy meats, pay attention to how the meat was raised and the cut. If available, read the nutrition information. Though chicken often wins out, you may be surprised!