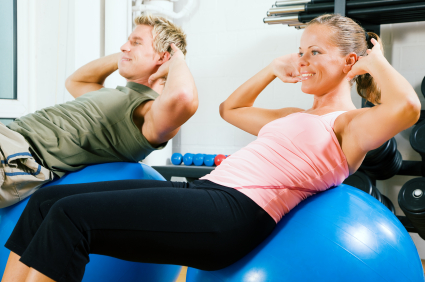 Wouldn't it be a lot easier to get to the gym if it meant that might have an orgasm? Turns out, for a lot of women, exercise-induced orgasms (EIO) and exercise-induced sexual pleasure (EISP) are exceedingly common.
The first-of-its-kind study is published in a special issue of Sexual and Relationship Therapy. According to the study's authors:
The most common exercises associated with exercise-induced orgasm were abdominal exercises, climbing poles or ropes, biking/spinning and weight lifting. These data are interesting because they suggest that orgasm is not necessarily a sexual event, and they may also teach us more about the bodily processes underlying women's experiences of orgasm.
The study concluded that 40% of the women who experienced EIO or EISP had done so on more than 10 occasions; in other words, these events are relatively common – though, aside from a few blogs that have coined the term "coregasm," no one seems to talk about it. Therefore, it's not surprising that many women reported feeling self-conscious while exercising and another 20% noted that they couldn't control their sexual experience.
It's uncertain if these EIO and EISP-related feelings of self-consciousness prevented any of these women from working out regularly. It's also uncertain if the EIO or EISP experiences have a positive impact (i.e., enhanced sex lives) – though future research hopes to tackle the possibility.
I do know that there are a lot of men out there – myself included – who would find it much easier to get to the gym on a Monday morning if it included the possibility of an orgasm. It sounds like it could be some great motivation.
In the comments below, let me know if you've ever had an exercise-induced orgasm or exercise-induced sexual pleasure while working out. And no, we're not talking about beating off in the shower with your gym buddy.