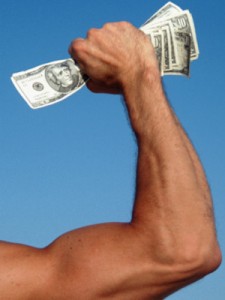 When it comes to exercise, I've heard all the excuses. And a lot of them have to do with money.
Here's a common one:
Joining a gym, hiring a trainer or buying a workout program are expensive. I don't have that kind of money.
Or:
If I spend time at the gym, it will take time away from my job. I need to put in all the time I can to get ahead.
But a new study is calling these excuses into question. Published in the Journal of Labor Research, the study found that regular exercisers make more money than their non-exercising counterparts. And the difference isn't small.
According to researchers, the wage increase for regular exercisers averages 6% – 10% – with frequent exercisers making even more. That translates to several hundred thousand dollars over the course of a lifetime. The study even concluded that non-exercisers often receive a pay boost when they begin exercising.
Clearly, a number of factors can be at play here. In-shape people are considered more attractive by society – and there is a well-documented link between attractiveness and increased wages. One study found that attractive people make, on average, make 3% – 4% more than less attractive people. But beyond attractiveness, exercise has a number of deeper benefits than can impact a person's job performance. Exercise results in increased energy, focus and decreased stress. These benefits can translate to huge advantages in the workplace.
The researchers recognize that more research is needed on the subject. But what do you think? Why do exercisers make more money? And are these findings motivation enough to get you off the couch and moving?