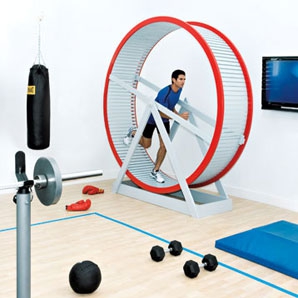 Exercise has a number of great benefits – not the least of which is decreased stress levels. People who workout regularly enjoy less anxiety, fewer symptoms of depression and tend to feel more cheerful.
But what if exercise itself stresses you out or causes anxiety? In some instances, people are ordered to exercise against their will – perhaps by a doctor or healthcare professional. Moreover, some people may view their gym time as another commitment in an already over-booked schedule. Not to mention the discomfort many people experience at the gym gym in the first place. For theses individuals, does the stress caused by exercise negate the stress-reducing benefits of working out?
To find some answers, researchers from the University of Colorado at Boulder conducted a study to examine the emotional effects of forced and voluntary exercise on anxiety.
For the study, rats were divided up into three groups. Group one was able to exercise whenever they wanted under their own terms. The second group experienced forced exercise that mimicked rats' general exercise preferences. Group three didn't exercise.
At the end of six weeks, the rats were exposed to experiences that cause anxiety in rats, and were subsequently placed in a an unfamiliar maze. Anxious rats cowered in a dark corner and refused to explore; the more resilient, well-adjusted rats were more brazen.
According to researchers, the forced exercise group was the least anxious. Despite being forced to exercise under conditions beyond their control, their stress levels seemed to be quite low.
Yes, rats are not humans. And this is just one study. But the results do suggest that though exercise may cause stress and anxiety for some people, the stress-reducing benefits of exercise are much more significant. In other words, even if you're forced to exercise according to your doctor's orders and are nervous or uncomfortable about hitting the gym, you still stand to gain some powerful emotional benefits.