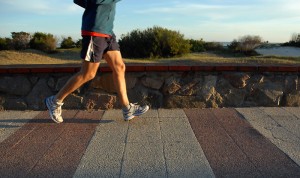 When it comes to releasing weight, not all cardio exercises are created equal.
First, it's important to understand how weight is released from the body. Weight release happens only when there is a calorie deficit; that is, more calories are used by the body than are taken in through food consumption.
The following exercises burn a tremendous amount of calories, and thus, are more helpful in creating the necessary calorie deficit that results in weight release:
Step Aerobics. Real men (and women) aren't afraid of step classes. In a heart-pumping half hour, you can burn 400 calories.
Swimming. This is my favorite cardio exercise – I've recently incorporated it into my weekly routine. It's low-impact on joints and high-impact on calories. If you have joint or knee trouble, this may be the route for you. You can burn 400 calories in a half hour doing the breast stroke.
Bicycling. Depending on the intensity and the course, you can burn 250 – 500 calories in 30 minutes. That's not bad for an exercise that you can perform while sitting on you butt.
Running. Though higher-impact and certainly not for the faint of heart, running literally incinerates calories. In 30 minutes, I can burn through a whopping 600 calories.
Walking. Running isn't for everyone. If you enjoy moving at a slower pace, walking may be a better fit. A 145-lb person typically uses 180 calories in 30-minutes of walking. Walk a hilly course for an extra challenge.
Jumping rope, sprinting and spinning oh my! These exercises are super high intensity. Try jumping rope for 15 or 20 minutes and you'll torch nearly 200 calories.
Of course, the truly best cardio exercise for losing weight is the cardio exercise that you'll perform regularly. Find something that you love – or at least like – and commit to doing it regularly. Know that it takes time, and be willing to put in the energy to achieve your weight release goals.