Dear Davey,

I've been in a relationship for a few months now, and my boyfriend is extremely large down there. He's around 10.5 inches and very thick. I enjoy bottoming for him, but I have to admit that I'm getting more and more loose. Sometimes it feels hard to hold my sh*t.

Any suggestions?

From,
Ben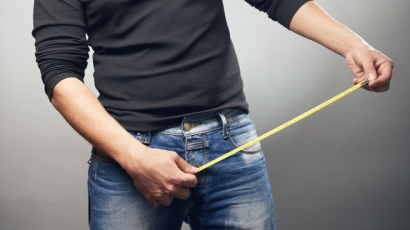 Hey Ben,
Sounds like a crappy situation. Sorry, I couldn't resist. 😛
I give exercise advice on this blog, and… as it turns out, your anus has two muscles. The inner ring is the internal sphincter and it's an involuntary muscle. That means, it's an automatic muscle and you're not able to exercise it. The external sphincter, on the other hand, is a voluntary muscle and it is something that you can exercise.
But first things first, you may just be paranoid. Instead of becoming "loose", it's possible that you've just become more accustomed to handling his size. Problems can occur when inserting truly large objects like bottles, arms and so on. These objects can even result in muscle tearing.
A good indication that you truly have an issue is leakage. But there can be many causes of this including constipation, straining, general wear and tear or even childbirth.
Obviously, if you do have an issue, it's important to consult with a physician.
Having said that, try this.
First, squeeze your sphincter while sitting in a chair with your legs slightly apart. It will feel like you are trying to prevent a leak; you should feel the muscle contract. Do this without contracting your buttocks, tummy or legs. You should feel the sphincter lift up and off of the chair. Continue breathing!
Now, try the first exercise. Tighten the sphincter as tight as you can; hold for five seconds. Relax for 10 seconds. Repeat at least five times to increase the strength of your sphincter.
Now, try the second exercise. Tighten the sphincter to about half of your maximum tightness; hold for as long as you can. Relax for 10 seconds. Repeat at least five times to increase the endurance of your sphincter.
Now, try the third exercise. Tighten and relax the sphincter as quickly as you can. Try for at least five sets.
Do these exercises several times a day. You can do it in the car, while watching TV or even right now. No one will know!
I hope that helps.
And as a side note, I'm probably not the only one that wants to see a picture of your boyfriend's… well, anyway! Good luck.
Love,
Davey
P.S. If tighter abs (and not just a tight anus) are part of your fitness goals, download Davey Wavey's Six Pack Program and get started today!