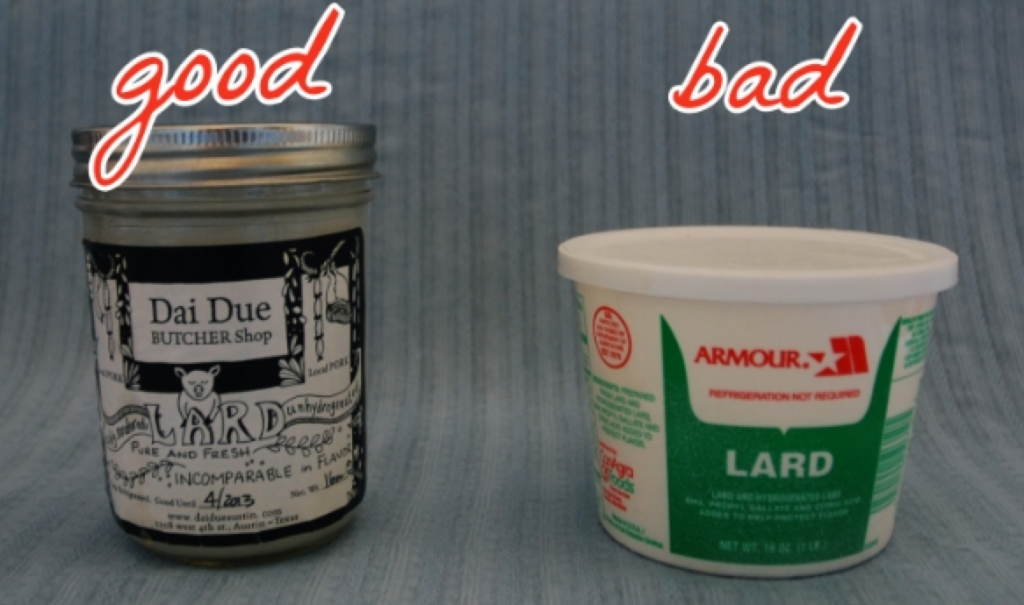 I get a lot of questions asking if this is healthier than that.
Is brown sugar healthier than table sugar? Is McDonald's healthier than Burger King? Is diet soda healthier than regular soda?
Lately, I've been getting a lot of questions about lard. More specifically, is lard healthier than butter?
Growing up in New England, I'm vaguely familiar with lard-fried foods. In fact, a restaurant near my parents' home in southern Rhode Island still fries their clamcakes in pure lard. It's worth noting that they're the most glorious thing I've ever eaten.
In recent years, lard is making a comeback. But the truth is, real lard is hard to find. Most supermarkets only have hydrogenated lard, which turns it into a solid at room temperature. Unfortunately, hydrogenation is also the source of unhealthy trans fats which simultaneously boost bad cholesterol while lowering good cholesterol.
As detailed in a read-worthy article from Food & Wine, the process of procuring lard is actually tedious. In part, this is because many of today's pigs are raised to be lean. To get enough pork fat to produce lard, you'll need to find farmers who raise the pigs of yesteryears.
But let's cut to the point: Is lard healthier than butter?
Despite its really, really bad rap, lard actually does have some nutritional advantages versus butter:
Lard is 60% heart-healthy monounsaturated fats; butter is only 45%
Lard has a higher smoke point than butter, making it ideal for frying – and less likely to turn burn and turn carcinogenic
Lard has half the saturated fat found in butter
While these attributes make a better case for lard than butter, let's be clear: Neither butter nor lard are healthy. Foods cooked with either tend to be high in calories, and thus must be eaten in moderation.
In other words, lard is not the new kale.But lard may be on the brink of making a comeback in our diets. And in terms of it replacing butter or hydrogenated fats, that isn't a bad thing.
P.S. To change the way you look and feel through the foods you eat, download Davey Wavey's Insanely Easy Guide to Eating Smarter. You'll get my 5-day ab workout videos as a free gift!