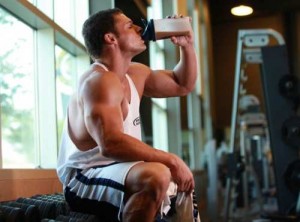 Last week, I wrote about the best type of protein to take before going to sleep for the night. After posting the article, I received a number of emails from exercise enthusiasts who didn't realize the importance of consuming protein before bed. With that in mind, today's post will cover the four times (including before bed) when protein consumption is most often recommended.
Obviously, protein requirements vary greatly from person to person. So, first things first, it's important to calculate your daily protein requirements. For some people with high protein diets or lower protein needs, protein supplementation in the form of powders and shakes may be less important. For others, it can be crucial for success.
1. First Thing in the Morning
When you wake up, your body is in a catabolic state and hasn't received proper nutrition for a good eight hours. It needs protein, and it needs protein quickly. I usually opt for a whey protein shake because the protein is absorbed quickly by the body. Just like brushing my teeth and flossing, protein consumption is part of my morning routine.
2. Before Your Workout
Some trainers recommend protein consumption 30 minutes before exercise. This will set up your "anabolic window" to help repair and rebuild the damage done during lifting. Again, a fast-acting whey protein works well here.
3. After Your Workout
After exercise is the most important time to consume protein. If you only take one protein supplement a day, this is the time to take it. Research has shown that sooner is better, so you may even want to take your protein powder or shake to the gym. Whey protein, due to its fast absorption, is the best choice.
4. Before Bed
Because your body will essentially be fasting during sleep, it's important to consume a protein that's slow to absorb. Before going to bed, I recommend casein protein because it takes 5 – 8 hours to fully breakdown.
Obviously, protein supplements are really just that – they supplement the protein that we get through a proper diet. The extent to which you'll need to supplement depends on your fitness regime and diet, so just use this advice as a general guideline.
And, keep in mind that more protein isn't always better! Too much protein can result in weight gain, kidney problems and even heart disease. So don't overdo it!