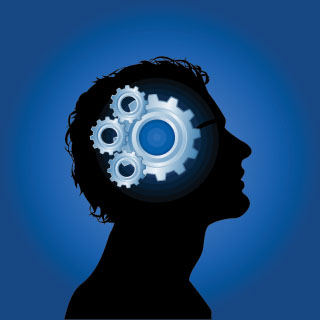 Today's guest post is by Davey Wavey's good friend and spiritual weight release coach, Diane Petrella. Diane is also one of the contributors to The Davey Wavey Weight Loss Program.
Early in our lives we're "programmed" with certain beliefs that shape us. For example, if you were praised and supported as a child, you most likely developed a sense of confidence. But if you were repeatedly ridiculed, especially about your weight, deep down you may feel unworthy. This belief may erode your confidence even as you strive to do all the right things to lose weight.
When there is something you desire, but can't seem to make happen—like losing those last 20 pounds, for example—chances are your subconscious, hidden beliefs are blocking you. Your conscious mind is like the tip of an iceberg. It's visible and obvious. From this place your desire is clear: "I want to lose weight."
Your subconscious mind, however, is the mass of ice below, hidden beneath the surface.  It carries beliefs rooted in your past and is much more powerful than the small tip above. To permanently lose weight, your conscious and subconscious minds must agree. For example, if your subconscious mind says, "I'm a failure," your journey may feel hard. But if your subconscious mind says, "I'm worthy and capable of reaching my weight loss goal," you most likely will.
Meet Alice
Overweight since childhood, Alice wanted to lose 50 pounds. She believed her weight was the reason she couldn't meet another man after her divorce. She and her ex-husband were childhood sweethearts and now that she was older, she believed no one would want to date her.
Whenever Alice attempted to improve her lifestyle habits to lose weight, she stopped eating healthfully. This pattern continued for several months, even as she earnestly wanted to become thinner. Because she understood the power of her beliefs, she examined what kept getting in her way. Alice discovered contradictory beliefs that sabotaged her progress.
On one level, Alice wanted to lose weight. But on a deeper level, she feared men wouldn't want to date her even when she was thinner. She often said, "Who would want someone like me?" Staying overweight paradoxically offered Alice both hope and protection—hope that "someday" she'd meet a man when she was thinner but also protection from being rejected by men when she was thinner.
What a double bind!
Alice's Strategy
Alice reached her goal weight, and while she hasn't yet begun dating, the confidence and self-assurance she feels makes that less of a priority.  Here are the steps Alice took to release negative and contradictory beliefs that held her back:
Positive Affirmations
Alice strengthened her self-talk by frequently repeating these affirmations to herself: "I am loveable," "I am worthy," "I am beautiful."
Thought Stopping
Whenever Alice became afraid or thought she was unworthy of being loved, she deliberately stopped herself. She took several deep breaths to calm her body and then said to herself, "This thought is not a fact. It's just a belief I've had for a long time. I choose to let it go."
Visualization
Every day Alice used visualization to imagine herself five pounds lighter. Once she reached that goal, she'd imagine herself five more pounds lighter, and so on. Visualizing small steps helped Alice slowly adjust to changes in her body and feel less afraid of reaching her goal weight.
Emotional Freedom Technique
Alice used an energy psychology technique called EFT or Tapping to help eliminate her limiting belief of "I'm not worthy." Considered a cousin to acupuncture, EFT is a process of using your fingertips to tap on certain energy meridian pathways on your body. EFT has been shown to be very effective with helping to eliminate limiting beliefs as well as anxiety, fears, and other psychological blocks.
Support
Besides counseling, Alice routinely interacted on Calorie Count's on-line forums and sought additional support through Overeaters Anonymous. These resources helped her feel less isolated and offered her much needed encouragement.
It's not your fault if you're having a hard time losing weight if you don't even know what hidden obstacles are blocking you. But if you want to reach your goal, it's up to you to find out. As Alice did, learn to identify limiting beliefs and remove the emotional obstacles that keep you stuck. Doing so will not only help you release weight with greater ease, your results most likely will be permanent.