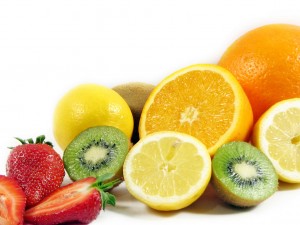 A common excuse for eating unhealthy foods is that the more nutritious options are too expensive.
As I've said before, the excuse is untrue; it's a myth. It's totally possible to eat healthy without spending a lot of money. In fact, I even made a video about it.
A new study by the Center for Science in the Public Interest take things a step further. According to the study, fruits and vegetables are not only more nutritious than packaged snacks and side dishes, but also more affordable.
For the study, 20 snacks and 19 side dishes were analyzed. After the numbers were crunched, the study found that the average price per fruit or vegetable snack was $0.34. The price per unhealthy packaged snack was nearly double at $0.67. The nutritious vegetable side dishes averaged $0.27 while packaged side dishes averaged $0.31.
Some examples from the study:
Half-cup of apple: $0.26 / One Fruit by the Foot: $0.45
Half-cup of grapes: $0.46 / Package of M&M candies: $0.75
Half-cup of sweet potato: $0.31 / Stovetop stuffing: $0.38
Half-cup of sliced cucumber: $0.14 / An ounce of Lay's Potato Chips: $0.27
In other words, this study challenges the notion that eating healthy is expensive. In fact, the opposite is often true. And since most Americans aren't getting their recommended servings of fruits or vegetables, all of us would be well served – in the waistline and the wallet – to replace some unhealthy packaged foods with healthier alternatives.
Unhealthy foods also come with a hidden, long-term cost. For instance, medical expenses. Obesity accounts for 21% of U.S. healthcare costs. In fact, obese people incur annual medical costs that are $2,741 higher than non-obese people.
Of course, to be fair, fruits and vegetables often have a shorter shelf life than packaged options like M&M candies or potato chips. But remember that frozen fruits and vegetables are a great option – and are often cheaper and even more nutrient dense (as they're picked and frozen at the peak of freshness). If you want the fruits and veggies to last longer, buy frozen!
Does this study jive with your own person experience? Let me know in the comments below!