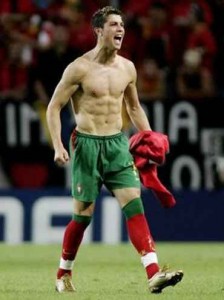 If you're exercising, then you probably have goals. If you don't have goals – make them! Otherwise, it's like taking a road trip without a destination in mind.
And if you haven't already, it's a good idea to write down your goals. I like to write "SMART" goals – goals that are specific, measurable, attainable, relevant and timely. Since my goals are specific, they contain a "by when" date. For example, I might want to increase the circumference of my biceps by 1 inch by April 1, 2011. When April 1 comes along, I can evaluate my results.
But here's the kicker: Though our goals should be attainable – i.e., it's physical or mentally possible for you to accomplish whatever goals you create – they shouldn't be too attainable. Failing to reach about 50% of your goals is a good thing. It means you're shooting high. It means that you're really pushing and challenging yourself. After all, it's better to shoot for the stars and land on the moon than aim for the mountains and reach them.
If you're reaching all your goals, you're probably not challenging yourself enough.
And remember, "failure" really isn't failure. It's just a result – and it's an opportunity to re-evaluate your goals. Maybe you didn't accomplish it because it's actually not that important to you. Or maybe it needs a new deadline, or a new approach. Learn from your results, and evolve.
Want questions do you have about goal setting? And what are some of your fitness goals?