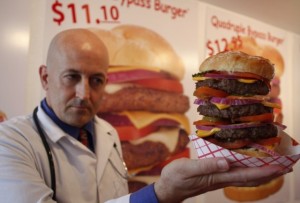 Back in October, I posted about the newly-opened Heart Attack Grill in Las Vegas. The restaurant celebrates gluttony by featuring such menu items as the quadruple bypass burger, flatliner fries (deep fried in pure lard) and milkshakes made with butter. You can even buy a pack of unfiltered cigarettes with which to enjoy your meal. And, if you're over 350 pounds, you eat for free.
The restaurant is trying to make a jock about America's obesity epidemic by celebrating overindulgence – but, personally, I don't see the humor. With millions of Americans dying of heart disease each year (it's the leading cause of death in the United States), it's not really a laughing matter. We don't joke about cancer, suicide, accidents or strokes – so why are obesity and heart disease the exception?
All that aside, just over a year ago, the restaurant's 575-pound spokesperson died of obesity-related illness. Then, in February, a man collapsed of a heart attack while eating his meal. This week, less than two months after the previous incident, a woman in her 40s collapsed mid-meal. She was consuming a double bypass burger, drinking a margarita and smoking cigarettes.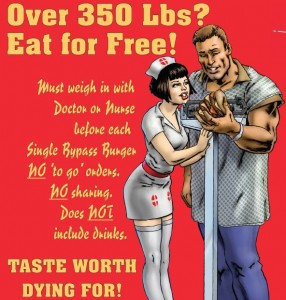 It's worth noting there's no evidence that eating unhealthy food can trigger an immediate heart attack. Nonetheless, it hasn't stopped people from debating: Who's at fault? Though the woman doesn't plan on suing, is the restaurant to blame? Or is it a matter of eater-beware?
Personally, I think the Heart Attack Grill is a terribly toxic establishment. But I don't think the owners are to blame; individuals need to take responsibility for the consequences of their actions. If I make the decision to speed – and, as a result, get in a debilitating car accident – then I wouldn't turn around and sue the car company. The decision to speed was mine.
What we eat is a choice. Smoking is a choice. How we treat our body – and whether or not we make time to exercise – is a choice. All of these choices have consequences – and, for those, I think all of us need to take ownership.
But what do you think? Who is at fault? The woman? The restaurant? Both? Let me know in the comments below!