Dear Davey,

I've started a new lower body workout, and it leaves me sore for a few days thereafter. I know you're not suppose to strength train muscles that are still sore, but is it okay to run with sore legs?

From,
Matthew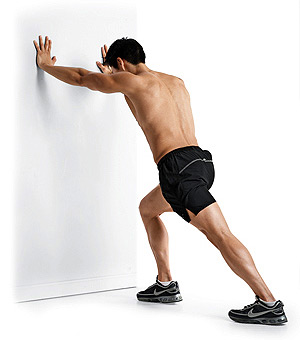 Well, there are a few points that need to be made here.
First, there are two types of soreness. There's delayed onset muscle soreness (called DOMS) which occurs 12-48 hours after you complete your workout. It's normal to experience DOMS – especially when you start a new workout regimen.
The other, less-desirable type of soreness occurs immediately and is often asymmetrical (i.e., it occurs only in one leg or one hamstring), and it's most-often injury related. If your soreness is injury related, then you need to avoid using the injured muscle until you've recovered.
If you're experiencing a low-level of DOMS in your legs, it may be okay to do some cardiovascular training. Ensure that you do a warm-up and proper stretch before engaging in your cardio. If the soreness or discomfort increases during your cardio, then you should stop immediately – as the increased pain may be indicative of an injury.
Keep in mind that DOMS typically fades within a month or two of a new routine, so you probably won't be dealing with issue long-term. As you become more accustomed to your routine, the soreness will dissipate in subsequent workouts. And remember: Soreness isn't required for muscle growth.
The bottom line: If you're experiencing a slight amount of DOMS, then it's okay to engage in cardio so long as it doesn't exacerbate the soreness. If your soreness is injury related, avoid cardio until you've healed.