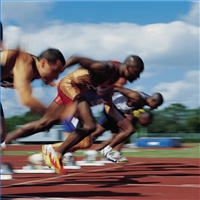 With January 1st just a few days away, we'll continue our focus on New Year's resolutions. And more specifically, how to keep 'em. Today, we turn our attention to burnout. The treadmills will be packed on January 1st – but how many of those people will be there a month later?
You know the story. Maybe you've even lived it. Starting on January 1st, many people have a new-found commitment to their health. They are energized and enthused about getting to the gym. And so they hit the gym frequently, and for an extended duration of time. It's a full out sprint into a healthier lifestyle – but almost always, burnout occurs. The commitment isn't sustainable, the energy subsides and the resolution is never realized.
Burnout is avoidable; here's how:
If you don't currently exercise, and if January 1st will mark the start of a new (or renewed) workout schedule, then start slowly. I know that you're super excited to hit the gym and change your health and body, but pace yourself. Start with 2 or 3 days a week for 30 – 45 minutes. Over time, slowly build on it. After a month, maybe you exercise for an extra day – or for a few extra minutes. Gradually build on your workout schedule.
If you already exercise, but want to vamp up your workout, try increasing your current schedule by 20%. If you exercise 3 days a week for an hour, try hitting the gym for 40 minutes on an additional day. Don't go from 3 days to 6 days – it's just not sustainable.
Here's the bottom line: We are creatures of habit and change is difficult. If you can introduce small change – instead of a huge change – you're more likely to stick with it. I liken January 1st to running a marathon. A good marathon runner can pace himself or herself. If you start a marathon with a sprint, you'll start fast – but there's no way to finish the race. Perseverance goes out the window.
You're excited about your New Year's resolution – I can feel that! But here's what you'll need to do: Dole out that energy, enthusiasm and excitement in a way that it will last you through the entire new year. Ration it out as needed, but don't burn it all in the first two weeks and then have an empty tank for the rest of the year.
Pace yourself and you'll reach the finish line.