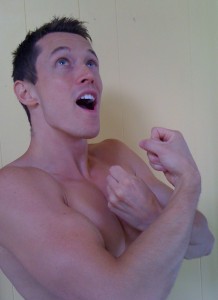 Which is better: Light weights and high reps or heavy weights and low reps? Well, it depends on your goals.
But first things first, let's define low and high reps. A "rep" is one repetition of an exercise. For example, if you do three push-ups, you just performed 3 reps. Low reps are anywhere from the 6 to 10 range – that is, performing 6 – 10 push-ups, presses, curls, etc. High reps are anything including and above 10, usually the 10 to 15 range.
High Reps / Low Weight
Some trainers (i.e., Tracey Anderson) are big fans of using light weights performed at high reps. The truth is, it depends on the goals of the client. If you can curl a dumbbell 15 times, for example, the weight is generally too light to actually break down your muscle fibers. It is the body's repairing of muscle fibers that builds muscle – so high reps will do little to increase muscle mass. On the other hand, high reps will get your heart pumping and a cardio effect occurs and you'll burn calories and fat. In addition, high reps build muscle endurance which helps muscles work under stress. If you're training for a triathlon, for example, high reps and light weights could be very useful. 10 – 15 is generally considered high rep.
Low Reps / High Weight

Lifting heavier weights at lower reps is the best method for building muscle mass. Increased muscle mass boosts metabolism and heavier lifting increases bone strength. There a lot of great benefits here, but again, it depends on the goals of the client. In general, you should select a weight that fatigues your muscles (in other words, you can't do one more rep) in 6 – 10 repetitions.
The bottom line: Which is better? It depends on your goals. If you want to build muscle endurance and get some cardio, then high reps of low weights are for you. If you're looking to increase your muscle mass, boost your metabolism and strengthen your bones, low reps of higher weights are your cup of tea.
Questions? Leave 'em in the comments, below.