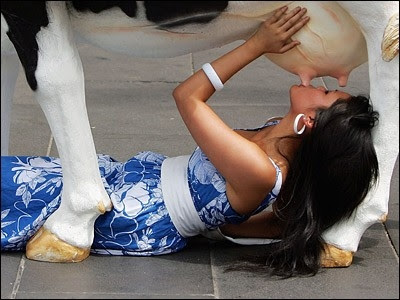 We've always been taught to drink our milk. In fact, the USDA recommends that adult men and women should get three dairy servings per day. But are these guidelines outdated – or downright wrong?
A number of recent studies have shown that milk might not be so great, after all. Just a few weeks ago, a new study was published in the journal BMJ. Researchers set out to determine if high milk consumption is associated with mortality and fractures in men and women.
More than 100,000 Swedish adults were recruited for the study. Over the course of several decades, mortality rates and fractures were tracked. According to the data, researchers concluded that having three or more glasses of milk per day increased mortality rates for both men and women, and increased fractures in women.
So does drinking three glasses or more of milk really cause you to die earlier?
Researchers advise caution, and feel that more data is needed before making any conclusions. If this link proves to be true, researchers speculate that it could be due to an ominous ingredient in milk called D-galactose. In animal studies, this ingredient led to premature aging in the body and bones and internal inflammation, which can lead to health issues including cancer and heart disease. But all of that is a big 'if' at the moment.
Of course, we do know that milk does have some benefits – mainly, that it's rich in calcium. But there are plenty of other calcium rich foods like kale, oranges, beans, green peas, chickpeas, quinoa and seeds.
Milk also contains a great deal of sugar in the form of lactose. One cup of milk contains 13 grams of naturally occurring sugar… or just over 3 teaspoons. It's one of the reasons why I always opt for unsweetened almond milk. It's creamier than milk, but without the sugar or extra calories. Regardless of whether or not these studies prove to be true, I highly recommend making the switch.
P.S. To look good and feel great through the foods you eat, download Davey Wavey's Insanely Easy Guide to Eating Smarter. It comes with a free gift!