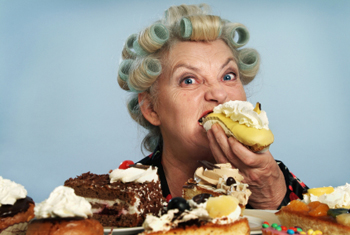 Emotional eaters reach for food not when they're hungry, but rather in reaction to what they're feeling. Emotional eating may be triggered by sadness, anger, anxiousness or any other feeling – and food is used as the pacifier or cooping mechanism.
When we talk about reducing mindless snacking and controlling the amount of food we eat, it's common to hear tips about hiding unhealthy foods or storing them outside of reach. And while these tips are helpful, they're treating the symptoms and not the actual problem.
A new study by UCSF researchers, published online in the Journal of Obesity, looks at the relationship between mindful eating, stress reduction techniques and overeating. While the study was conducted only with women, I'm sure that men can learn from the findings as well.
The participants were divided into to groups. The first group was the control. The second group underwent a series of classes to help the women better manage their stress and understand their eating habits. The women learned meditation techniques and how to be more aware of their eating by recognizing bodily sensations like hunger, fullness and taste satisfaction.
Not only did the second group of women who received the training decrease their stress (researchers were able to measure drops in the stress hormone cortisol), but they also lost the most weight.
The lead researcher reported:
In this study we were trying to cultivate people's ability to pay attention to their sensations of hunger, fullness and taste satisfaction as a guide for limiting how much they eat. We tried to reduce eating in response to emotions or external cues that typically drive overeating behavior.
She went on to note that additional research is still needed.
But this study does point to the importance of managing the triggers that lead to overeating – rather than just trying to reduce the eating itself. It's certainly food for thought.