One of the big advantages to cooking at home is that you know exactly what goes into your food. There's no guesswork or clever marketing involved. And the same is true for our salads.
Though grabbing a salad sounds healthy, the reality is that many fast food salads are actually less healthy than the obviously unhealthy alternatives – like a Big Mac. With 550 calories and 30 grams of fat, there's no question that the Big Mac is a gut-busting and unhealthy choice. But even the Big Mac doesn't have anything on these salads.
Drum roll please… Some of the worst fast food salads include:
Applebee's Oriental Chicken Salad
While the name sounds both innocent and slightly offensive (didn't we stop using the term "Oriental" a long time ago?), this massive calorie bomb of a salad is no laughing matter. With 1,390 calories and 98 grams of total fat, you are not doing your body any favors with this meal choice. This salad contains 15 grams of unhealthy saturated fat. For most people, that's an entire day's worth.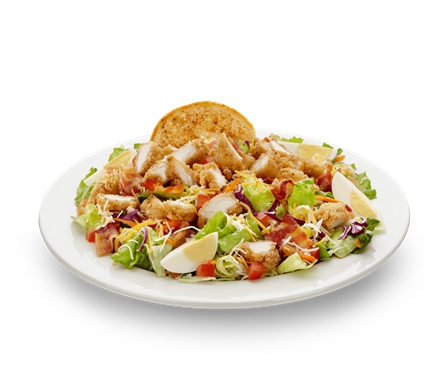 But wait, things get worse…
IHOP's Crispy Chicken Salad
As soon as you see the word "crispy," run the other way! It's code for fried. With a mind-blowing 1,400 calories, 88 grams of total fat and 26 grams of saturated fat, this is a terrible salad choice.  Bizarrely, with 28 grams of sugar, it has almost as much sugar as a can of coke. Yikes.
And then for the worst salad of them all…
Chili's Quesadilla Explosion Salad
With 1430 calories, 96 grams of total fat and 28 grams of saturated fat, this salad is truly an explosion of everything your body doesn't need. It's about the equivalent of two and half Big Macs. Don't do it. Just don't.
The bottom line: Salad isn't synonymous with healthy. Play it safe and smart by preparing your salad at home. If you must grab a salad on the go, make sure you Google the nutrition information – even if the salad sounds like a healthy choice. Opt for grilled over fried, ask for no cheese and no bacon and select a dressing that isn't creamy.