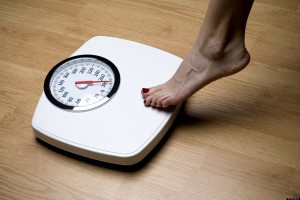 There are many ways to motivate people to lose weight. But shame isn't one of them.
That is, at least, according to a new study about weight stigma from a researcher at UC Santa Barbara. According to the findings, the media's characterization of overweight people as lazy, weak-minded and self-indulgent may actually be contributing to the problem rather than helping to solve it.
For the experiment, women of various weights, shapes and sizes were divided into two groups. One group of women read a mock article titled "Quit Smoking Or Lose Your Job." The second group read a mock article titled "Lose Weight or Lose Your Job."
After reading the article, the women in both groups had to describe what they had just read. Then, each of the women was left in a waiting room for 10 minutes. The waiting room was stocked with a variety of pre-weighted snack foods and candies.
According to the data, the women who read the weight-stigmatizing article ate significantly more food than any other group of women. In a final set of questions, this group also reported feeling significantly less able to control their eating.
In other words, the negative messages that society creates about overweight people aren't a motivating factor in weight loss. In fact, it seems that they have the opposite effect. It's also not really a surprise, especially since overeating is a way for some people to feel comfort. Which leads to more weight gain, and then more shame and guilt – and then more overeating as comfort. It's a vicious cycle.
Instead of shaming ourselves or other people into losing weight, try a diet of inspiration, kindness and love. If you want to make positive changes, let's start with positive thoughts.