Today's guest post is by Davey Wavey's good friend and spiritual weight release coach, Diane Petrella. Diane is also one of the contributors to The Davey Wavey Weight Loss Program.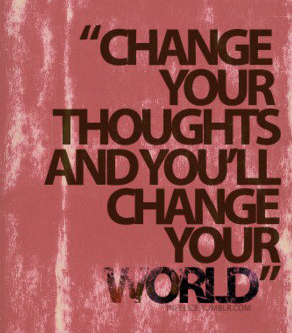 If you're feeling stuck with your weight loss progress, chances are it has nothing to do with what you're doing and everything to do with what you're thinking. Change your thoughts and you will get back on track.
Here are five common limiting thoughts that sabotage weight loss progress and how to change them.
Limiting Thought #1: "I'm afraid I'll never be able to lose weight."

This immobilizing thought erodes your confidence and keeps you feeling helpless. Unless you have a physical disorder or are taking medications that inhibit weight loss, remind yourself that there is no reason why you can't release weight.
Solution:
When this fear-filled thought enters your mind, stop and take a deep breath. Simply notice the thought and observe it with detachment. Say, "Oh, there you are again. That's ok. I don't have to give you power. I want to lose weight and I commit to doing what I need to do to succeed."
Limiting Thought #2:  "Even when I lose weight, I always gain it back. What's the use?"
Just because something always was, doesn't mean it always will be. Trust in your power to make permanent change. If it was hard for you to succeed before, chances are your limiting beliefs got in the way. Decide to practice healthy thinking in the same way you practice healthy eating.
Solution:
When thoughts of past self-defeating patterns creep in, tell yourself, "It doesn't matter what happened before. All that matters is this moment. I'll take one positive step today to honor myself and my body." Then, follow through and do one kind thing for your body that reinforces your commitment to taking good care of yourself.
Limiting Thought #3: "I've tried everything to lose weight and nothing seems to work"
There are many sound nutrition and exercise approaches. They work. It's just that we become impatient and give up too soon. Or, it requires a commitment that we're just not ready to make. It's sometimes easy to say, "It didn't work" instead of taking responsibility for how we got in our own way.
Solution:
Once you decide on a sound nutrition and exercise approach that feels right to you, make a decision to stick with it no matter what. Understand that your fear-based mind will try to weaken you with thoughts of "it's not working". When that happens, use it as an opportunity to strengthen your strong side. Say to those sabotaging thoughts, "OK, I expected you'd be here. But I'm not listening to you anymore. I'm committed to what I want and I'm getting there."
Limiting Thought #4:  "I hate my body."
Do you really "hate" your body or do you "hate" being overweight? Notice the difference. "Hating" your body dishonors everything your body does for you, like allowing you to walk along a beach, hug your child, or enjoy a flower's fragrance. When you appreciate how your body serves you, you'll change your attitude about your body, even if you carry excess weight.
Solution:
Soften your tone. Instead of a toxic word like hate, simply say, "I'm unhappy with my weight and I'm changing that." You can learn to love taking care of your body, even if you don't love how your body looks right now.
Limiting Thought #5:  "It's taking too long. Nothing's changing."
Impatience sabotages even the best efforts. Remember, it took a long time for you to get where you are and it will take time to get where you want to be.  For your results to be permanent, time is necessary to help you shift your self-concept and "grow into" the person you're becoming.
Solution:
Create a personal support team so you don't remain isolated. Consult with a trusted nutritionist, personal trainer, life coach or your medical practitioner for ongoing support and to help you make adjustments to your plan when necessary. Join Calorie Count's groups to connect with others. With a solid plan in place and personal support for encouragement, the time it takes to lose weight will matter less than the healthy lifestyle changes you're making to ensure you get there.