Dear Davey,

I was looking in the mirror the other day and realized that my right trapezius is larger than my left and it is noticeable. My friend recommended that I do shrugs whilst having a heavier weight on my left until it balances. Is this right – or is there a better way of evening my muscles out?

From,
Kieren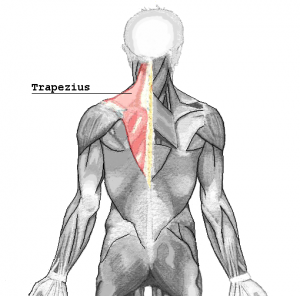 Hey Kieren,
First things first, the trapezius muscles (often called "traps" for short) are the large superficial muscles that extend up the back of your spine, out toward your shoulders and down your spine (see image). They help move the scapulae and support the arm.
Having uneven muscles is very common – and it's fairly easy to correct. Whether it's uneven biceps, glutes or traps, the strategy is very similar. Ditch the machines (unless they are iso-lateral) and barbells in favor of dumbbell workouts. Barbells can be a great part of any workout, and they're particularly useful when working with very heavy levels of resistance. But with barbells, you're able to favor one side over the other – and thus experience an uneven workout.
As an example, look at the barbell bench press. If my left pectoral muscle is weaker and less developed, I'm able to shift more of the weight onto my right side when performing presses. If I were doing chest presses with a dumbbell, on the other hand, I wouldn't be able to shift the weight – and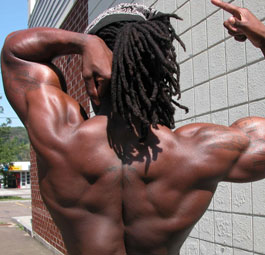 both pectoral muscles would be getting an equal workout.
With machines, it's also easy to favor one side over the other – unless the machine is iso-lateral. With iso-lateral machines, each side moves independently of the other – and so, these can be used to correct muscular imbalances.
Doing dumbbell shoulder shrugs is a great way to build up your traps. Since you're looking to build size, use the heaviest weight that still allows for 8 – 10 successful repetitions. You should experience failure on your last repetition. Do up to 4 sets as time allows.
Also consider dumbbell upright rows and reverse dumbbell flies.
Love,
Davey