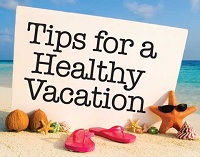 For the last 31 days, I've been jet-setting around the globe on a world tour to meet fans and to film content. Incredible as the tour was, from a health perspective, 31 days of eating in restaurants, planes, food courts and cafes posed a real challenge for my body.
So, I created a strategy. And spoiler alert, it worked.
Here are the 7 rules that I created for myself:
Drink lots and lots and lots of water. I can't stress this enough. Water has so many amazing and wonderful benefits including clearer skin, increased productivity, decreased cancer risk – and even a metabolic boost. Drink more. Weigh less.
Eat for fuel, not pleasure. Okay, this one is a bit tricky. I don't like the idea that eating healthy means forgoing flavor. There are tons of healthy, delicious and nutritious meals – especially if you're cooking at home. When traveling, it's a bit more difficult. So I prioritize the nutritional value of food over its flavor. Sure, pizza would be delicious. But a colorful salad topped with grilled chicken is what my body reallt needs. You don't have to love the way every meal tastes. But you'll certainly love the way it makes you feel – and that counts for a whole lot more.
Look for the 12 unhealthy restaurant menu words. Anything that says Alfredo, pan-fried, crispy, battered, au gratin, etc. doesn't belong in your stomach. Instead, clue into words like steamed, grilled, broiled or baked. In general, they'll point your toward healthier food choices.
Stock up on high-fiber fruit. When we traveled for my tour, we really didn't stay in any one city long enough to go grocery shopping or to prepare meals on our own. But I did find a few minutes to sneak out to a local convenience or grocery store and buy some high-fiber fruits like apples. Because fiber is slow to digest, an apple snack is a great way to curb your hunger. When you do go out to eat, you're much less likely to overeat.
Don't drink your calories. Okay, you've heard this one before. But consider how many more calories are packed into restaurant meals versus what you'd be cooking at home. All the extra butter, cheese and grease doesn't help – not to mention extra large portion size. It's possible to offset some of those additional calories by sticking to water as a beverage of choice. The only exception would be a nutrition-packed drink, such as a real fruit smoothie made with an unsweetened almond milk base (versus an apple juice base which is loaded in sugar and calories).
Customize your meals. Don't order exactly as it is from the menu. Most restaurants are happy to make substitutions. Cut out the mayo. Ask for the dressing on the side. Get a sandwich without cheese. Ask for dry toast. Substitute a side item for salad or steamed vegetables. Get brown rice instead of white. While small, each of these substitutions will instantly upgrade your meal.
Pay attention. It's not about starving yourself or going crazy, but it is about paying attention to the food that goes into your body. Make each food decision consciously and deliberately. This doesn't mean avoiding gelato in Italy, but it might mean enjoying a few spoonfuls rather than a whole container.
As a bonus tip, it's important to be realistic. Traveling and eating healthy are real challenges, and so it's not a good time to embark on a diet or weight loss plan. It's more about minimizing the damage or trying to maintain your current level. And good nutritional habits should be complemented with good exercise habits. Even while traveling – or, especially while you're traveling – go to the gym to prevent muscle mass loss and to burn off those extra calories.