Dear Davey,

How long should it take to see results from working out? I'm relatively new to the exercise game. I've been doing resistance training and cardio for about 4 weeks. Thanks for any advice you have.

Impatient in Iowa
Thanks for such a great question!
First, Mr. Iowa, we have to define results. Your "results" are likely different from the next person, and obviously it is all dependent on your fitness goals. Some people exercise for weight loss while others are looking for (if you can believe it) weight gain. Some want bigger muscles and others want improved energy or endurance.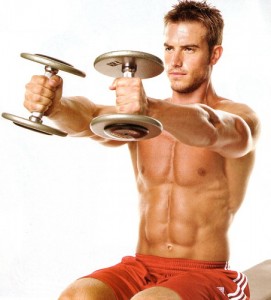 Second, we have to determine the best way to measure those results. Here are just a handful of ideas:
How your clothes fit
Tape measure
Body fat percent
Cholesterol
Improved level of activity (don't get winded as easily, can lift more weight around the house, etc.)
Scale
Sleep (if you're sleeping through the night)
Obviously, there are a number of methods to measure your results and these methods will be dependent on your goals. If your goals are building muscle mass and increasing strength, for example, then I'd recommend a tape measure as your method (this is much better than weighing yourself). On a biweekly basis, you can measure the width of the muscles that you are trying to build and track the results.
Third, consider diet. Does your diet support the results you are looking to achieve? If you are looking to build muscle, are you taking in the right amount of protein? If you are looking to drop a few pounds, does your diet support a calorie deficit? A lot of people have great fitness goals that they are working towards in the gym – but then they ignore those goals when it comes to food. It's like trying to swim upstream. On the flip side, if your diet supports the change that you are looking to produce, your results will be expedited.
Fourth, we need to factor in the amount of time and energy you're spending exercising. Obviously, someone who is working out intensely 5 days a week is going to see results faster than someone that is spending 20 minutes a week working out. Not surprisingly, there is a positive correlation between effort and results. If you are working out less frequently – this isn't necessarily a bad thing – then just know that your time line will be extended.
Having said all of that, most beginners will start to see results in one way, shape, or form after the first 6 to 8 weeks of exercise. Of course, different muscles build at different rates – and so larger arms will be noticeable before, say, more developed abdominal muscles (abs build very slowly). Remember: Rome wasn't built in a day. And your results won't happen overnight. Moreover, many of the changes are so slow, they're hard to track with the naked eye. Be sure to measure with something a little more objective than your bathroom mirror.
Keeping all of this in mind, it's important to recognize that exercise isn't about setting a goal, measuring against it, achieving it and stopping. It's about making exercise a regular, sustainable and integral part of your life.
If you're looking to get started (or change things up), my Total Body Assault program is a great way to start. For a limited time, use promo code "results" to save 25%.