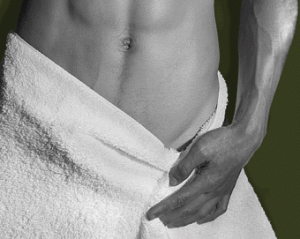 They say you shouldn't shit where you eat, but I say you shouldn't sleep where you lift.
A few years ago, I joined a gym while spending the summer in New York City. I was going into my senior year of university, and it took me a while to find a gym that didn't break the bank. When I finally found it, I was delighted to discover that it was full of gays. One guy, in particular, tickled my fancy – a tall glass of dark and handsomeness named Helix. And so when we caught eyes, the rest was history.
I committed the cardinal gay gym sin: I slept where I lifted.
The only thing harder than finding a good man is finding a good gym. The search is long and hard (much like Helix!), and once you finally find a gym that works, it's important to hold on to it. You wouldn't want to risk spoiling a good thing, right?
What I didn't consider is that I'd see that I'd see Helix the next day. And the next day. And just about every day thereafter for the 4 months that I lived in New York City. The encounter that Helix and I shared was great, but it wasn't something that I wanted to repeat or continue. Luckily, it didn't get complicated and Helix wasn't overly persistent, but seeing him everyday did make things a bit awkward.
The bottom line is this: Don't sleep where you lift. Save that for the internet.
What gym tips do you have for gay men? Share 'em with us in the comments below! I may feature some of my favorites.