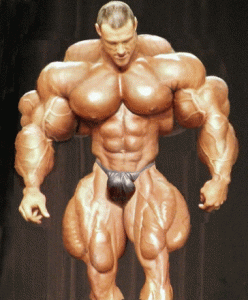 Like just about anything, working out – and the desire to be bigger – can become an addiction.
You've probably seen guys and girls with muscles on top of muscle on top of muscles. I've seen guys (like the man in this picture) whose muscles are so large that it interferes with the body's functionality. You can't really walk down a street when your thighs are the size of redwood trunks.
I also don't find it particularly attractive.
How does it happen? Did he wake up on day and say, "I want to be huge!" Probably not. If you've ever tasted the sweetness of achieving your fitness goals, you'll probably understand the slippery slope. Achieving the results you want is intoxicating. For a lot of people, it helps them feel good about themselves. And so it's much more alluring to raise the bar again and go for even bigger muscles, rather than to switch into a maintenance mode. It's a state of always striving and never really arriving.
I enjoy working out. I like the way my body feels after I've spent 90 minutes exercising it and getting it moving. And yes, I enjoy achieving results. But I try to check myself so as not to let my gym time fuel a real addiction. And as an extra safeguard, I've told my friends to wave a red flag if I ever start showing signs of addiction.
Indeed, there is a fine line between being athletic and healthy, and being too big. How big is too big for you?