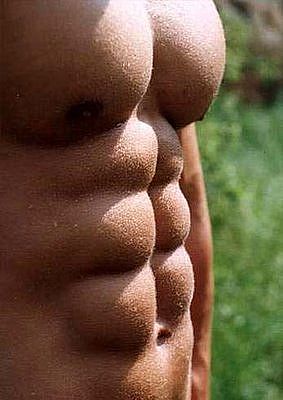 Yesterday, I was hitting the gym and chatting it up with a new member. He was asking me about a few of the machines, including one that works the obliques (aka side abs). He was totally excited to try the machine out, and explained to me that he's trying to get rid of his "love handles" and extra fat around his waist.
But alas, the belief that ab exercises will reduce love handles or create a flat stomach is one of the most pervasive exercise misconceptions out there.
Ab exercises build and strengthen abdominal muscles. They do not convert fat tissue into muscle. And they don't shrink your midsection. In fact, it's impossible to target parts of the body from which to lose weight.
If you have a belly, and embark on a comprehensive and ass-kicking ab workout, then you'll likely develop much stronger and bigger ab muscles over time. But those ab muscles will still be hidden under a layer of fat – and even the smallest layer of fat will hide a six pack.
If you want a flat stomach, then you need to do three things:
Cardiovascular exercise. Cardio burns calories during and after exercise. It will help reduce body fat.
Comprehensive strength training. Muscle does wonders to boost the body's metabolism, so put into practice a total body strength training program. Adding muscle will increase the number of calories your body burns each day.
Proper nutrition. A clean, healthy diet will complement your exercise program and keep body fat to a minimum.
So, if you aspire to showcase a washboard stomach – or just flatten things out a bit – then know that you can crunch your way until kingdom come, and it won't make a whole lot of difference. Instead, do cardio, strength training and eat right. Simple and easy? No. But it works.