I get a lot of mail from blog buddies asking for advice, giving tips and sharing stories. I really appreciate hearing from you, but I was especially touched by the following e-mail:
Hi Davey!

About a month ago I was curled up in bed with a boy that I'm completely in love with after a night of him drinking. He turned to me and said "If you would lose 160 lbs, I would marry you tomorrow". The sting that went into me was so intense. I started crying and told him I was sorry I wasn't beautiful…

I got up the next day and joined a gym. It's so intimidating to be morbidly obese, and walk into a place where the women walk around in sports bras and have PINK written across their ass, but whats even worse is the anxiety I feel when I see the early 20s guys helping each other cut the sleeves of their shirts cause they're so ripped. I feel so out of place. Everyone looks at me like, "What is that fatty doing here?"

I had NO idea how much I weighed, I haven't known for at least ten years. I got on the scale. I am twenty six years old… I am five foot eleven inches tall… and I weigh three hundred and thirty seven pounds.

I started with doing 1 hour water aerobics classes 4 days a week. Now I've added 15 minutes of weight machines, and 15 minutes on a bicycle.

I don't feel like I'm doing the right things.

I've lost 4 pounds in a month which is a good start but NOT nearly what I want.

I'm morbidly obese, but HOW do I lose weight when its so hard to move my body?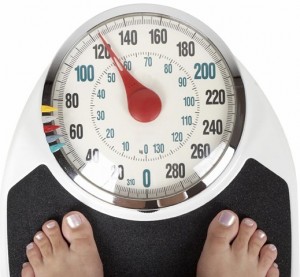 Dear Blog Buddy,
Even reading your words, I can feel your very real pain. One issue is your boyfriend: Do you want conditional love? It is beyond the scope of this blog to delve into the murky world of relationship advice, so I will stick to what I know.
Having been overweight when I was younger, and now much fitter as an adult, I have been on both sides of this experience.
First, though people may look at you in the gym, I'd advise you not to project your insecurities into their stares or looks. In all honesty, it is very likely that people are impressed by your courage. A gym is especially intimidating for beginners – people understand that – and the gym goers that you see may be looking at you because they admire your bravery.
Second, it's helpful to move to a place wherein there looks or stares are of no importance, regardless of intent. Measuring yourself by the judgments of others – good or bad – is a dangerous game. Avoid it by honoring and cultivating the intrinsic self worth that you have as a human being. I know, easier said than done.
Third, you are doing the right thing. And you've done the hardest thing. You've taken the first step. It is the hardest step that you'll ever take, and it's now behind you.
Fourth, maintain a gym commitment that is sustainable. It's very easy to burn out when getting started. It's great that you are doing both cardio (water aerobics, bicycling) and strength training (weight machines). Doing strength training buildings muscle, and muscle incinerates calories all day long; it's absolutely essential to accompany your cardio with strength training.
Fifth, consider your nutrition. I'm going to e-mail you a copy of my Eating for Fitness program. Nutrition is obviously the other side of the health and wellness coin. Losing weight is about both exercise and nutrition – and you may wish to seek the help of a professional.
Sixth, and along the same vein – you may wish to work with a trainer. Most gyms have personal trainers, and I'm sure they could pair you up with someone wonderful and affordable. It will be money well spent, and money that you may otherwise be spending on health problems and complications down the road.
Seventh, do it for you. Forget your boyfriend's comment. Do not lose weight so that he will marry you. Lose weight so that you can honor your body and this experience of life. You only get one body. Honor it. Do it for you.
It's all about small steps, and like I said, you've already taken the hardest one. Just keep moving – moving forward – and with a little hard work and dedication, you will be create a transformed body and a transformed life.
We are all routing for you.