I love pancakes.
But I don't always love the list of ingredients which generally includes white flour, sugar, milk and butter. So if you love the taste of pancakes but don't want to sacrifice your health, is it possible to have your pancake and eat it, too?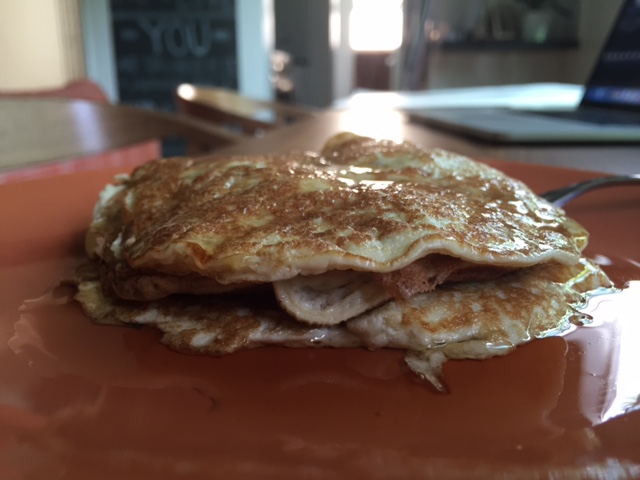 Yes.
Today, I will change your life with my favorite healthy pancake recipe. Best of all, it only requires two ingredients.
Ingredients:
1 small ripe banana
1 whole egg
2 egg whites
Directions:
In a bowl, mash up the ripe banana. Add in the whole egg and egg whites. Mix it all up (I use an electric mixer) until the mixture is homogeneous.
Heat up a greased griddle or frying pan and pour 3-inch puddles of the mixture.
Once the bottom of the pancake is golden brown (it takes about 30 seconds), use a spatula to flip the pancake.
This recipe makes about 3 pancakes.
With 18 grams of protein, these healthy pancakes are a great alternative to traditional pancakes. And, they're kind of delicious. Just temper your expectations; they won't taste like your grandma's fluffy pancakes… but they're still pretty good in their own way.
Give them a try and let me know what you think.
P.S. For additional healthy recipes and everything you need to know about eating healthy, download Davey Wavey's Insanely Easy Guide to Eating Smarter.