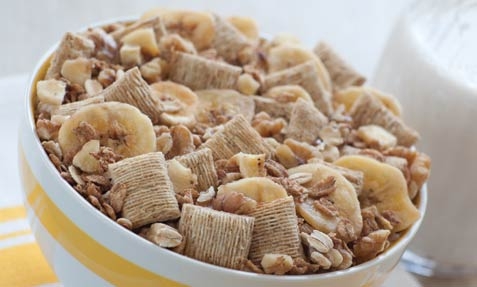 You'd never start the morning with a bowl full of sugar, right? After all, breakfast is the most important meal of the day. It's interesting, then, that so many cereals list sugar as their primary ingredient.
In fact, according to The Environmental Working Group, Kellogg's Honey Smacks, Post Golden Crisp and Kellogg's Froot Loops Marshmallow cereals are some of the worst offenders. They contain 55.6%, 51.9% and 48.3% sugar by weight respectively. Needless to say, it's not a great way to start your morning.
Finding healthy cereals has become a pet hobby of mine. And with so many high sugar and unhealthy options, it's not easy to find smart choices.
In general, I have the criteria:
Whole grains listed as primary ingredients. This one is easy. Rather than reading misleading marketing claims, look at the actual ingredients. What do you see? If the first ingredients are whole grain wheat, whole grain oats, rolled whole oats or whole wheat, etc., then you're off to a good start. If the world "whole" is missing before each grain, assume that it is refined and less healthy.
Contains at least five grams of fiber. Most Americans don't get enough fiber - but breakfast is an easy way to start the day right. High fiber diets may lower the risk of colon cancer, heart disease, and type 2 diabetes - and fiber helps normalize bowel movements and lower cholesterol. Fiber even facilitates weight loss by minimizing blood sugar spikes and helping dieters to feel full and satisfied.
No added sugar. This one is huge. Most of us get way more than enough sugar, and it's really not needed for a delicious and satisfying breakfast cereal. Keep in mind that marketers are sneaky, and that sugar is often disguised by other names like brown rice syrup, barley malt and molasses. Some cereals, like those with dried fruits, will contain some naturally occurring sugar - but ensure that additional sugar isn't added in the ingredients.
So which cereals make the cut? Not many. I'm a big fan of the Engine 2 line - which I've only been able to find at Whole Foods Market. Alpen's "no sugar added" muesli is also a smart choice that's more widely available.
Does it take a little extra time and effort to find a healthy cereal? Sure. But breakfast sets the tone for the rest of your day… and you're so worth it.
Do you have a favorite healthy cereal? Let me know in the comments below. Does it pass all three of my criteria?