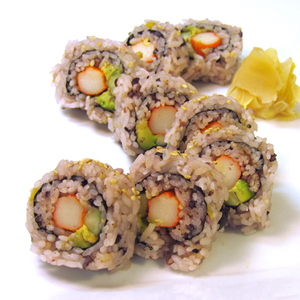 The other day, I was browsing my local grocer's sushi counter. Because of the nutritional advantages including increased fiber, nutrients and essential oils, I always opt for brown rice rolls over rolls made from white rice. But just as I reached for the brown rice spicy tuna roll, I noticed something new: Multigrain rice sushi.
So what is multigrain rice? And is it healthy?
Much like multigrain bread, multigrain rice can really mean anything. It simply means that multiple grains of rice were used - potentially including white rice. In addition to having fewer nutrients, white rice results in a blood sugar spike and has been linked to type II diabetes.
As such, you really need to read the ingredients carefully and brown rice, which is generally regraded as the healthiest rice, should still be the primary ingredient. For color and texture, other healthy rices, grains or seeds may be added - including black rice (often called "the new brown rice" because of its nutritional properties) and sesame seeds.
If you're unsure of an ingredient's properties listed in the multigrain mixture, do a little research to ensure it supports your health and nutrition goals.
In chatting with the sushi chefs, I learned that the multigrain option has become popular with those folks that are avoiding white rice - but that don't like the taste of plain brown rice. And indeed, after having a few samples, multigrain sushi does add a texture, crunch and flavor that consumers will likely find very appealing.
Have you tried multigrain rice? Let me know about it in the comments below!