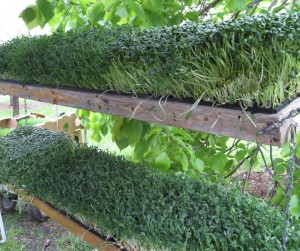 This morning, I was reading a salad recipe that called for "micro arugula" as an ingredient. While most of us are familiar with the bitter leafy green that is arugula (sometimes called "rocket" overseas), what is micro arugula? And are micro greens any healthier?
First things first, "micro" is really just a fancy way for saying baby. Micro arugula is arugula that has been picked shortly after germination while still tiny, tender and tasty! Unlike sprouts, which germinate in water, micro greens are grown in a thin layer of actual soil. Beyond arugula, other popular micro greens include kale, beets, radish, spinach, red cabbage and many others. Micro greens are becoming increasingly popular and can be found in any health food store and some mainstream grocery chains.
Micro greens are small but mighty for a number of reasons.
For one, they're easy to grow and transport. If you have a sunny spot in your home or kitchen, you don't need a lot of expertise, space or time to grow some basic baby greens. Moreover, because they're harvested early, you'll be eating your micros in weeks rather than months. And, because they're so transportable, many restaurants receive the greens while still in their growing trays. The greens can go from tray to plate to mouth in a matter of minutes; it doesn't get fresher than that!
What really makes micro greens so special is their nutritional content. A recent (and first of its kind) study published by the University of Maryland found that nearly all of the 25 commercially available micro greens that they examined had nutrient levels 4 - 6x higher than the full-grown plant. For micro green enthusiasts, that's huge news.
The bottom line: Beyond providing fresh and vivid colors, flavors and textures, micro greens pack a huge nutritional punch. If you haven't jumped on the micro green bandwagon, I'd definitely recommend giving it a try.
Are you a micro green fan? Which is your favorite? Let me know in the comments below!