According to the U.S. Department of Agriculture, the average American eats nearly 2,700 calories a day. With the exception of athletes and very active individuals, this caloric intake exceeds expert recommendations by several hundred calories. Over time, all those extra calories add up - and it's no wonder that 2/3 of Americans are overweight.
In the journey to eating smarter, we need to look at where we're at today. We need to assess the situation before decided which areas of our diet are most ripe for improvement. To that end, and while these numbers will vary greatly from individual to individual, I think today's infographic is a great place to start.
(Scroll down for additional commentary)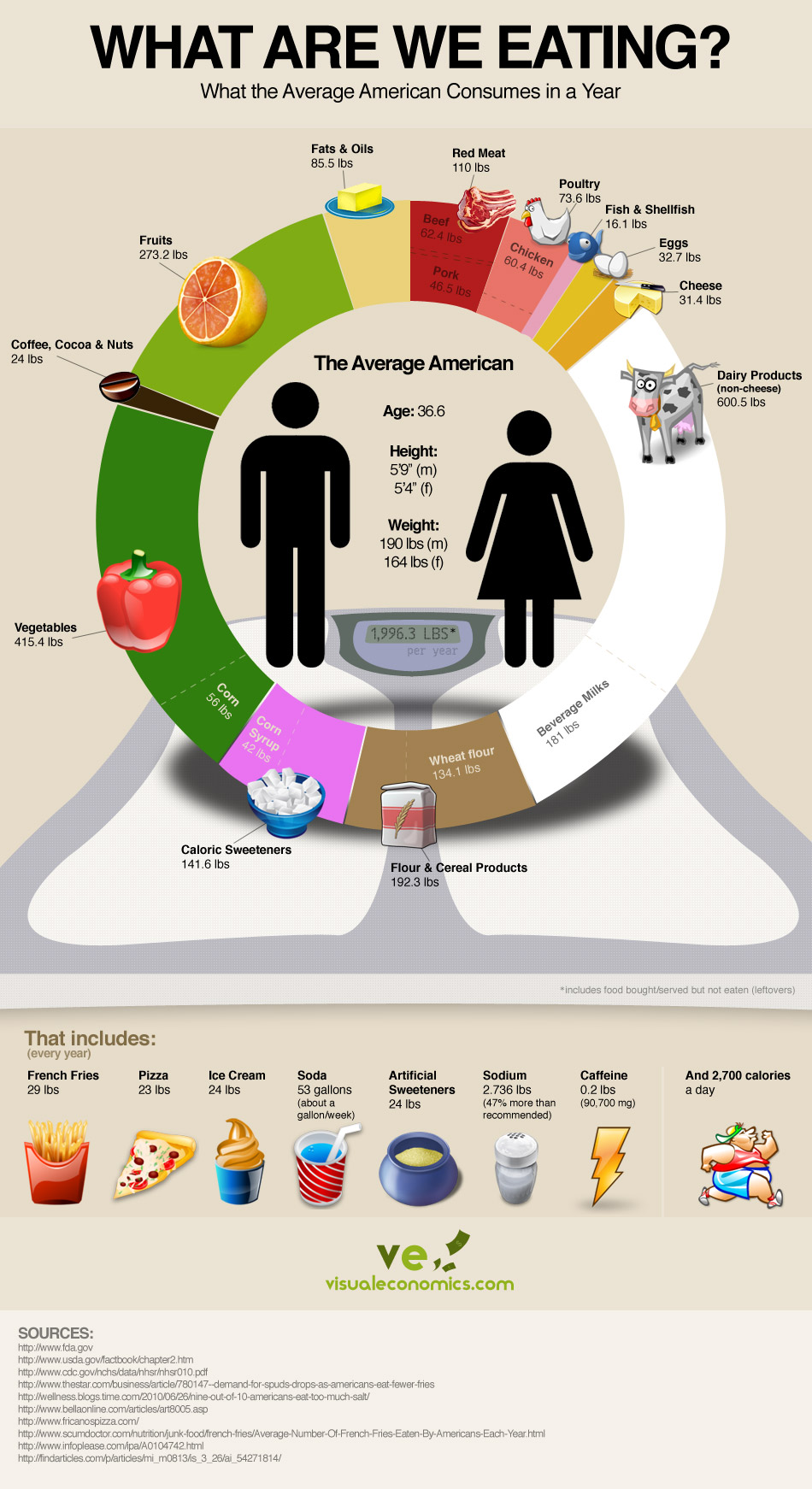 For me, there are a few important takeaways.
At first glance, it can seem encouraging that we consume 415 pounds in vegetables annually (which translates to more than 20% of our overall food intake by weight). That is, until you realize that corn and potatoes account for 173 pounds of that. Though there's nothing wrong with corn and potatoes, let's make more space for other veggies in our diets.
An obvious area for improvement is the 110 lbs of red meat we consume. In a frequently cited study, Harvard researchers found that 9% of male deaths and 7% of female deaths would be prevented if we lowered red meat consumption to 1.5 ounces (or less) per day. That would be just over 34 pounds annually. In other words, replacing 2 out of 3 beef dishes with a leaner meat - or vegetables - would be a wise move for the average American.
We also eat a lot of non-cheese dairy products. In other words, we a great opportunity to substitute with dairy alternatives that are less calorie-dense, like almond milk.
Speaking of calorie dense foods, we'd all be well served by reducing the 141 pounds of caloric sweeteners consumed annually. In part, this is fueled by the 53 gallons of soda we drink annually. And the 24 pounds of ice cream. Replacing just a few glasses of soda and other high-sugar products per week would go a long way to a healthier lifestyle.
In the comments below, let me know how your personal eating habits differ from the average American. And what areas for improvement are there in your diet?