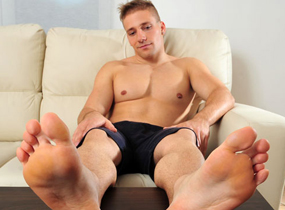 There's something romantic about running barefoot. It's a minimalistic return to our roots; after all, man ran barefoot for millions of years. Modern running shoes, on the other hand, didn't come about until the 1970s. But is running barefoot a good thing? Or a utopian pipe dream and recipe for disaster?
When I first started lifting, I used weight lifting gloves. While the gloves increased my grip strength, reduced callusing and provided additional wrist support, they do so at a price. Since the gloves are doing much of the work for you, your muscles don't have to work as hard. In other words, they limit real gains in grip and forearm strength. For that reason, I stopped using weight lifting gloves.
Can the same logic be applied to running shoes? By running in shoes, are we limiting muscle development in our feet and ankles? As of yet, there's not much data on the subject. But according to Craig Payne, DipPod, MPH, a senior lecturer in podiatry at Latrobe University in Melbourne, Australia, "[There is not] any evidence showing that running shoes weaken the muscles of the foot."
Barefoot running does have one important efficiency working in its favor:
Oxygen consumption is typically 4% to 5% lower in barefoot running, which is attributed to factors including moving the shoes' weight (energy demand increases about 1% for every 100g of additional mass on the foot), the bending resistance and friction of the sole, midsole energy absorption, and energy lost to metatarsophalangeal joint stiffness.
From the little data that does exist, any differences in running barefoot vs. with running shoes don't translate to increases or decreases in reported injuries. Running-related injuries haven't decreased with the development of modern running shoes, so it seems that footwear (or lack thereof) isn't the largest determining factor in injury risk. Payne notes, "Barefoot running reduces heel strike and the impact associated with it, but there is not one piece of evidence that links high impacts to injury. The most common running injuries—patellofemoral pain syndrome and fasciitis—have nothing to do with impact."
If you are looking to incorporate barefoot running into your program, know that most runners use it to add variety. It's almost never the staple of a runner's workout; instead, it's used as an alternative approach. And barefoot running is certainly not recommended when running along sidewalks or in urban areas where you might encounter debris such as broken glass. If runners want to incorporate barefoot running, they are advised to do so in small increments - which can be increased slowly over time - so that the body can adjust accordingly.
But what do you think? Have you tried barefoot running? Share your experience in the comments below.