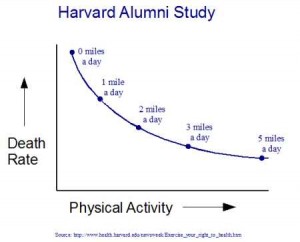 One of the most common excuses that I hear is, "I don't have time to workout."
It's an interesting excuse because it's so obviously untrue.
Did you know that Barack Obama spends 1 hour a day exercising? If the leader of the free world has time to hit the gym, then so do you.
But let's dig deeper. Exercise extends your life and it prevents debilitating disease.
There is a famous Harvard study (graph pictured) that shows the relationship between physical exercise and longevity. It's simple: Work out and you'll live longer. You'll have more time to do the things you love.
When it comes to disease and illness, think about how debilitating a head cold is. It keeps you out of work, off your routine and prevents you from tackling your busy schedule. Now imagine how debilitating a stroke would be. Or a heart attack. Exercise helps prevent all of that by lowering "bad" cholesterol, enhancing blood flow and helping your heart function more efficiently. Exercise also helps prevent Type II Diabetes, Obesity (which can lead to a number of time-sucking medical issues) and osteoporosis, among other things.
So it's not a matter of not having enough time to exercise. It's not having enough time not to exercise.
It's also about making time. Chances are, you don't have an hour of nothingness time built into your schedule that you could dedicate to exercise. It's about moving things around and giving things up - like not watching Jersey Shore or America's Next Top Model. It's about prioritizing you, your body and your health.
The bottom line: You don't have time not to work out.
Any questions?